Huskers Stifle Spartans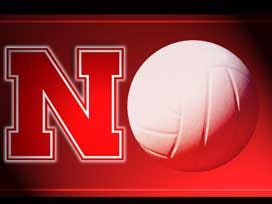 The No. 2 Nebraska volleyball team (20-2, 13-1) outmatched Michigan State on Saturday night, sweeping the Spartans 3-0 (25-11, 25-18, 25-23) in front of 4,136 fans at the NU Coliseum.
The Huskers used a fantastic defensive effort to take down one of the top-hitting percentage teams in the conference. Nebraska held MSU to a .026 hitting percentage, while hitting .263 on their own. NU out-dug Michigan State 49-36 and out-blocked the Spartans 11-5, while forcing them to commit 27 errors on the night.
Mancuso led Nebraska in the match with 13 kills on 26 attacks for a .385 hitting percentage. Hannah Werth tallied 11 kills and 10 digs for her seventh double-double on the season. Morgan Broekhuis had eight kills for the Huskers and also notched five blocks. Hayley Thramer also had five blocks of her own, while Brooke Delano tallied four. Brigette Root guided Nebraska on the night with 34 assists in her second career start.
Nebraska took a 6-2 lead early in the first set with a kill by Delano. The Huskers went ahead 14-6 and forced Michigan State to call a timeout. NU stretched its lead to 19-9 with a huge kill from Mancuso, while a double-stuff block by Werth and Delano put Nebraska up 21-10. A monstrous kill by Werth catapulted the Huskers to a 23-11 lead and two kills by Delano led Nebraska to a 25-11 first set win.
Mancuso led NU in the first set with five kills on seven attacks. Werth had four kills, while Delano tallied three. Root notched 11 assists in the first set, while guiding NU to a .429 hitting percentage. Michigan State hit -.107 for the set and tallied zero team blocks compared to Nebraska's five.
A kill by Broekhuis put NU up 4-2 in the second set. Errors plagued MSU early as the Huskers capitalized and went ahead 10-4. Michigan State scored three-straight points to pull within seven (13-6), but could not gain the momentum with a net serve on the next possession. The Spartans used another five-point run to make it 17-13, Nebraska. NU then took a 22-17 lead and didn't look back, taking the second set 25-18 to lead the match 2-0.
Both Mancuso and Werth had three kills in the second set, with Root tallying nine assists, and Lara Dykstra tabbed four digs. NU out-blocked Michigan State 3-1 and had a hitting percentage of .214, compared to the Spartans' .000.
Mancuso started the third set with a giant kill that guided NU to an early 6-4 lead. Michigan State used a long rally to cut the Huskers' lead to 10-9 and forced Nebraska to call a timeout. The Spartans tied it up at 11 and then posted five-straight points to take a 16-11 lead over NU before a service error stopped their run. The Huskers returned with a five point run of their own, to tie the set at 16-all. Nebraska went down 20-18, but used a kill by Broekhuis to come within 20-19. A double-stuff block by Broekhuis and Thramer tied the set at 21. The Huskers and Spartans were then all knotted up at 22, but NU used a hard-fought effort to take the third set 25-23 on a kill by Broekhuis, completing the sweep of the Spartans.
The Huskers hit the road next weekend to take on the Indiana Hoosiers on Friday, Nov. 11 at 6 p.m. and the Purdue Boilermakers on Saturday, Nov. 12 at 6 p.m. The Huskers' match with Indiana can be seen on BTN.com with a subscription, while Nebraska's match with Purdue will be shown on Purduesports.com with a subscription.