Huskers sweep Colorado, advance to Elite Eight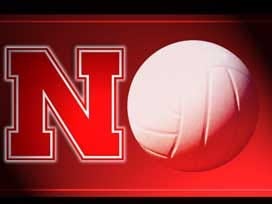 Posted by: Sports
sports@klkntv.com
Courtesy: UNL Athletic Communications
LEXINGTON, Ky. – The No. 5 Nebraska volleyball team swept Colorado (25-19, 25-11, 25-21) to advance to the NCAA Lexington Regional Final in front of a crowd of 3,179 at Memorial Coliseum on Friday. The Huskers will face No. 4 Kentucky on Saturday at 3 p.m. (CT) on ESPNU, ESPN3.comand the Husker Sports Network.
The Huskers improved to 29-4 overall with their 16th straight win, while Colorado ended its season at 24-10.
Annika Albrecht led Nebraska to its sixth straight regional final appearance with 13 kills on .344 hitting and nine digs. Freshman Jazz Sweet had nine kills and hit .533 with four blocks.
Mikaela Foecke notched seven kills and seven digs with a pair of aces, as the Huskers held a decisive 9-2 advantage in aces. Nebraska was also dominant at the net with a 10-4 blocks advantage. Briana Holman led the charge with six blocks to go with six kills. Lauren Stivrins had six kills and three blocks.
Nebraska got 35 assists and 10 digs from Kelly Hunter, her 14th double-double of the season. Hunter also had two service aces, and her 35 assists put her at 3,995 for her career and moved her past Greichaly Cepero for second-most in Husker history.
Sydney Townsend led the Huskers in digs with 14. Kenzie Maloney added 11 and had two aces playing in her home state. Hayley Densberger also served two aces.
Nebraska hit .292 and held Colorado to .109. Alexa Smith led the Buffaloes with nine kills but on .023 hitting.
Set 1: The Huskers had seven kills on their first nine swings with a pair of blocks as they went ahead 11-7. Colorado rallied to tie the set at 12-12 before kills by Holman and Hunter restored a 14-12 lead. A powerful kill from Albrecht made it 17-13 Huskers and forced Colorado to take a timeout. Sweet's fourth kill of the set put the Huskers ahead 19-15, and a solo block by Hunter kept the Huskers up by four at 21-17. Colorado cut the deficit in half to 21-19, but Holman terminated after a timeout and the Huskers took advantage of a free ball with another kill by Sweet to make it 23-19. After a Colorado timeout, Sweet pounded her sixth kill and Hunter served an ace for a 25-19 Husker win. Nebraska hit .452 and had three aces, two coming from the senior captain Hunter.
Set 2: NU went on a 6-0 run to take a 7-3 lead with two aces by Maloney. Holman combined on a pair of blocks, and Albrecht and Foecke smashed back-to-back kills to make it 10-4. After consecutive points by the Buffaloes, NU blitzed CU with an 8-0 run served by Foecke to make the score 18-6. The West Point, Iowa native had an ace during the run, while Holman, Sweet and Albrecht tallied kills, as Colorado struggled to pass Foecke's serve. Stivrins combined with Albrecht for a stuff and then put down a kill for a 22-8 Husker lead. The Huskers finished off a 25-11 win, holding Colorado to -.024 hitting in the set.
Set 3: An ace by Densberger and a block by Stivrins and Albrecht helped the Huskers take a 9-6 lead with a 4-0 run. Colorado responded and took a 12-11 lead, but Foecke and Holman answered with kills for a 14-13 Husker lead. Holman and Sweet teamed up for back-to-back blocks to increase the lead to 17-14, and Stivrins and Albrecht terminated kills to make it 21-17. Colorado made things interesting by pulling within 23-21, but Albrecht's 13th kill gave NU match point, and she ended the sweep with an ace serve.
Up Next: Nebraska will play Kentucky on Saturday at 3 p.m. (CT) for a chance to reach a third straight final four. Kentucky beat BYU in five sets in the first regional semifinal after trailing the match 2-1. The Huskers have never been to three consecutive NCAA Semifinals.
Nebraska Post-Match Notes
-Nebraska improved to 29-4 overall and won its 16th straight match.
-The Huskers advanced to an NCAA Regional Final for the sixth straight season and for the 27th time in the Huskers' 36 all-time NCAA Tournament appearances.
-Nebraska has made 15 NCAA Regional Final appearances in John Cook's 18 years at Nebraska.
-NU will play Kentucky on Saturday at 3 p.m. (CT) for a chance to reach a third straight final four. The Huskers have never been to three consecutive NCAA Semifinals.
-With the sweep, Nebraska remained perfect in NCAA Tournament play with its third straight sweep. Only six teams entered the weekend unbeaten in sets, and two (Colorado and BYU) dropped sets early on Friday.
-Kelly Hunter had 35 assists to pass Greichaly Cepero (3,987) for second all-time in career assists at Nebraska with 3,995.
-Hunter had her 14th double-double of the season with 35 assists and 10 digs, and she now has 35 double-doubles in her career.
-After trailing for just one rally in the first and second round last weekend, Nebraska trailed for only 14 rallies on Friday. The Huskers have trailed for just 15 rallies over a total of 356 rallies in the NCAA Tournament thus far.