Huskers sweep Gaels to win Ameritas Challenge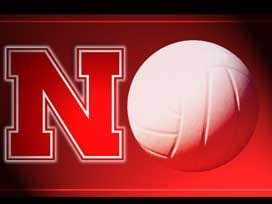 Posted By: Sports
Sports@klkntv.com
Courtesy: NU Media Relations
LINCOLN, Neb. – The No. 12 Nebraska volleyball team finished a perfect weekend with a 3-0 (26-24, 25-22, 25-18) sweep of Saint Mary's on Saturday afternoon at the Bob Devaney Sports Center. The Huskers won the Ameritas Players Challenge title with a 3-0 record on the weekend to improve to 3-2 overall on the season.
Saint Mary's, which won its other two matches in the tournament, fell to 2-4 overall.
Briana Holman was named most valuable player of the tournament after finishing a strong weekend with nine kills and seven blocks on .316 hitting against the Gaels. In the three matches, Holman had 25 kills with a .525 hitting percentage to go with 18 blocks. Mikaela Foecke had six kills and 11 digs in the win and was also an all-tournament team selection, as was libero Kenzie Maloney, who notched a career-high 22 digs.
Freshman Anezka Szabo led Nebraska on Saturday with a career-best 10 kills on .400 hitting. Annika Albrecht had nine kills, and Lauren Stivrins contributed seven kills. Jazz Sweet had six kills and four blocks for the Big Red.
The Huskers' two setters put up similar numbers in the match, as Hunter Atherton logged 21 assists and eight digs, while Kelly Hunter had 17 assists and six digs.
Nebraska outhit Saint Mary's .233 to .073 and had a 57-47 advantage in digs. Saint Mary's got 11 kills from Payton Rund, who was an all-tournament honoree.
Set 1: The Huskers fell behind 6-2 early despite a pair of kills by Holman. Foecke and Albrecht smashed back-to-back kills and Saint Mary's hit wide to get NU back within 8-7, but the Gaels answered with three straight to go back up by four, 11-7. The Huskers responded after a timeout with a kill by Szabo, a block by Holman and a kill by Albrecht to pull within 11-10. The Huskers then won a challenge ruling they did not touch a Saint Mary's attack that went wide, which tied the score at 11-11. NU took its first lead of the set when a kill by Albrecht completed a 5-0 run. Saint Mary's went back ahead, 16-14, with a 3-0 run on two kills and an ace. After the Huskers drew even at 16-16, SMC again went on a run, this time 5-0, to go up 21-16. Stivrins pounded consecutive kills to end the run, and Szabo followed with her second kill of the set to cut it to 21-19. The Gaels earned set point at 24-21, but NU staved off three set points as Szabo and Holman struck for kills, and Saint Mary's hit wide to even it at 24-24. After a Saint Mary's timeout, Sweet found the floor and the Gaels hit long for a thrilling 26-24 Husker win. Despite being outblocked 5-1 in the set, the Huskers outhit the Gaels .270 to .143.
Set 2: Nebraska trailed 10-9 when Szabo squared the set with a kill, and Holman took over with a solo block and kill to lift NU in front, 12-10. The Huskers took a 3-0 run and 15-11 lead into the media timeout after two straight Saint Mary's hitting errors. Holman was in on back-to-back blocks – one with Sweet and one with Foecke – for an 18-12 Husker lead. The Gaels scored five of the next six points to get within 19-17, but Sweet notched a kill to get a sideout. With a 20-19 lead, Szabo put down her sixth kill, and back-to-back kills by Stivrins and Albrecht made it 23-20 Huskers. The Gaels misfired on their first attack out of a timeout to give NU set point at 24-20. Saint Mary's fought off two set points before Szabo connected on her seventh kill for a 25-22 win.
Set 3: NU began the set on a 4-0 run before Saint Mary's chipped away to within 8-7. Albrecht recorded a kill to make it 9-7, and Holman tallied two more kills and a block with Sweet for a 12-8 lead. A Foecke kill had the Huskers ahead 15-13 at the media timeout. The Gaels came out of the break to win the next two points, but Szabo's ninth kill restored the lead for Nebraska, and Albrecht powered down a kill after keeping a play alive at the net for a 17-15 edge. A pair of errors by the Gaels made it 20-15 Huskers, and Nebraska rolled to its third straight sweep.
Up Next: The Huskers host No. 13 UCLA in a Friday-Saturday doubleheader next weekend at the Devaney Center. The teams will play at 8 p.m. on Friday on BTN and then will rematch at 7 p.m. on Saturday on NET.
Ameritas Players Challenge All-Tournament Team
Briana Holman (Nebraska), MVP
Kenzie Maloney (Nebraska), Best Libero
Mikaela Foecke (Nebraska)
Payton Rund (Saint Mary's)
Morgan Hughes (Saint Mary's)
Laura Milos (Oral Roberts)
Carmen Freeman (UMBC)