Huskers Sweep New Hampshire in NCAA Opener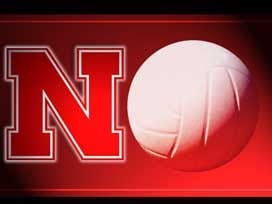 Posted By: Sports
sports@klkntv.com
Courtesy: UNL Media Relations
The No. 1 seed Nebraska volleyball team began its quest for back-to-back national championships with a first-round sweep of New Hampshire in front of 8,014 fans inside the Bob Devaney Sports Center Friday night. The Huskers dominated the opening set winning 25-9, then rallied for a 25-23 victory in set two before closing out the match with a 25-18 win in the third set.
With the win, Nebraska advanced to play TCU on Saturday at 7 p.m. in the second round of the 2016 NCAA Women's Volleyball Tournament. The Huskers, who won their seventh straight postseason match, improved to 28-2 on the season. Nebraska hit .352 in the match behind 13 kills from sophomore Mikaela Foecke and 12 from senior Kadie Rolfzen. The duo combined for half of Nebraska's 50 kills, while senior Andie Malloy added nine kills and junior Briana Holman chipped in seven kills in her Nebraska NCAA Tournament debut. Junior setter Kelly Hunter finished with 40 assists while adding eight digs and three kills. Defensively, senior Amber Rolfzen had four blocks, while senior libero Justine Wong-Orantes posted a match-high 14 digs.
New Hampshire, which was making its fourth consecutive NCAA Tournament appearance, saw its season end with a 21-11 record. The Wildcats hit .175 in the match, highlighted by a .333 mark in the second set. Gabri Olhava paced the Wildcats with 11 kills on 25 swings, while Demi Muses narrowly missed a double-double with eight kills and 10 digs.
On Saturday, Nebraska will look to become just the second team in NCAA history to record 100 victories in the NCAA Tournament.
Set 1: Nebraska got off to a hot start, bolting to a 10-2. The Huskers continued to blast kills and reeled off an 8-0 run to go up 19-4. After New Hampshire scored three straight points, the Huskers came back with kills by Amber Rolfzen, Kadie Rolfzen and Hunter, as well as a Kadie Rolfzen ace, to go ahead 23-7. Nebraska had 12 kills on its first 16 swings (.750) and finished the set with a .485 hitting percentage. The Huskers' 25-9 win marked only the fourth time in the rally scoring era that the Huskers have held an NCAA Tournament foe to single digits.
Set 2: New Hampshire gained some momentum early in the set and took a 6-4 lead. The Huskers went on a 3-0 run with kills by Foecke, Holman and Kadie Rolfzen, but the Wildcats put up a much tougher fight this time around, engaging in a sideout affair for nine straight rallies that saw the set tied 15-15. After the Huskers hit wide twice, New Hampshire had a 17-15 lead. Kills by Kadie Rolfzen and Malloy brought the Huskers back level, but the Wildcats remained ahead 19-18 after a kill by Hannah Petke. Kadie Rolfzen and Malloy produced kills for the Huskers to give them a 20-19 lead, but Muses answered to knot the score at 20-20. Nebraska appeared to finally take control when a UNH service error and kill by Foecke gave the Big Red a 22-20 cushion. But the Wildcats, who've made four straight NCAA Tournaments, showed their experience in fighting back to a 22-22 tie on a kill by Muses. After a timeout, a dump by Hunter made it 23-22, and Foecke put down the final point for a 25-23 win. Nebraska was strong offensively again, hitting .342. But the Wildcats hit .333 with 13 kills and just two errors after hitting .062 in set one.
Set 3: Back-to-back kills by Foecke, followed by a stuff block by Hunter and Amber Rolfzen put the Huskers ahead 8-5 after a 4-0 run. Nebraska had two blocks through the first two sets, but posted four early in the third set on its way to a 13-9 lead. The Huskers flexed their muscles with a 4-0 run off of three kills and a Kadie Rolfzen ace to go up 18-12. Foecke and Holman tacked on kills for a 22-17 lead, and Kadie Rolfzen hammered match point to the floor at 24-18. A UNH hitting error finished off the match in the Huskers' favor, 25-18.
Up Next: Nebraska advances to face TCU in the second round on Saturday at 7 p.m. The Horned Frogs topped Wichita State, 3-0, in Friday's early match. Doors will open at 5:30 p.m. The match will be televised on NET and will be streamed online at both Huskers.com (free) and BTN2GO.com. Huskers Sports Network will broadcast the match on HSN affiliates, including 107.3 FM in Lincoln and AM 590 in Omaha.
Nebraska Post-Match Notes
Nebraska improved to 28-2 on the season, including 15-1 at home.
Making their 35th all-time NCAA Tournament appearance – and 35th straight – Nebraska opened defense of its 2015 national championship with its seventh straight NCAA Tournament victory. The Huskers improved to 99-30 all-time in postseason play, including a 30-1 record in first-round matches.
Nebraska advanced to the second round of the NCAA Tournament for the 33rd straight season.
The Huskers improved to 67-6 all-time at home in the NCAA Tournament, including a 13-2 record at the Bob Devaney Sports Center.
Nebraska has won 45 of its last 48 home NCAA Tournament matches.
John Cook improved to 57-13 in NCAA Tournament play as Nebraska's head coach, including a perfect 17-0 in first-round matches.
Nebraska won the opening set, 25-9. That tied for the fewest points the Huskers have allowed in an NCAA Tournament set since a 30-7 second-set win over Alabama A&M in the first round of the 2005 NCAA Tournament. Overall, Nebraska limited an opponent to fewer than 10 points in an NCAA Tournament set for just the fourth time in the rally-scoring era (2001-present).
Senior middle blocker Amber Rolfzen had three block assists in the match to increase her career total to 486. She moved into Nebraska's all-time top-five in block assists, passing Jenny Kropp (484) for fifth place.
Senior libero Justine Wong-Orantes had a match-high 14 digs. She moved into third place in school history with 230 career digs in NCAA Tournament play. The Nebraska record for career digs in the NCAA Tournament is 253 by Kayla Banwarth.
New Hampshire Post-Match Notes
New Hampshire's loss snapped a season-best 10-match winch streak, and the Wildcats ended their season with a 22-10 record.
The 22 wins ranked eighth in school history and were the most since New Hampshire won 23 games in 2003.
Making their seventh all-time NCAA Tournament appearance – and fourth straight – New Hampshire fell to 0-7 all-time in the postseason.
The Wildcats' two fourth-year seniors – Demi Muses and Keelin Severtson – finished their careers with 83 wins, the second-highest total by a senior class in program history. The duo also became the first at New Hampshire to compete in four consecutive NCAA Tournaments.
Setter Keelin Severtson finished with 28 assists in the match, finishing the season with 1,230 assists. That total ranks fourth in school history. Severtson recorded 1,230 assists in her senior season after entering the year with 1,219 assists in her first three seasons combined.
Severtson ended her career with 2,449 assists, good fourth in program history.
Demi Muses had eight kills in the match. She ended her career with 959 kills, four shy of 10th place on the New Hampshire career kills list.
Muses added one block vs. Nebraska, giving her 284 career blocks, good for sixth place in Wildcat history.