Huskers Sweep Northwestern, Win 12th Straight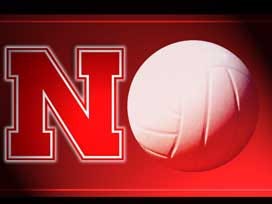 Posted By: Sports
sports@klkntv.com
Courtesy: UNL Media Relations
EVANSTON, Ill. – The No. 5 Nebraska volleyball team moved one step closer to a second straight Big Ten title after a 3-0 (25-13, 25-20, 25-21) sweep at Northwestern at Evanston Township High School in front of a crowd of 1,007 on Wednesday night.
The Huskers improved to 25-4 overall and 18-1 in the Big Ten with their 12th straight win and can clinch at least a share of the Big Ten title with a victory against Iowa on Saturday at 7 p.m. at the Bob Devaney Sports Center. The Huskers, the defending Big Ten champions, can win the title outright with a win over the Hawkeyes and a Penn State loss in one of its remaining two matches(at No. 11 Wisconsin on Friday or at No. 8 Minnesota on Saturday). If two or more teams are tied with the same Big Ten record at the end of the season, they are deemed co-champions regardless of head-to-head results during the season.
With the win over the Wildcats, Nebraska tied its highest win total in Big Ten play since joining the conference in 2011, as it finished 18-2 last season. The Huskers also reached 25 wins in a season for the 17th time in head coach John Cook's 18 seasons at Nebraska. Nebraska went 9-1 in its 10 Big Ten road matches and dropped just six sets in those matches, its lowest total since joining the conference in 2011.
The Huskers hit .341 and held Northwestern to .207. NU has now hit better than .300 in six straight matches. Nebraska had seven aces on the night and outblocked Northwestern, 8-3.
Annika Albrecht paced a balanced attack with 10 kills and added seven digs and three blocks. Briana Holman had seven kills without an error for a .778 hitting percentage and tallied a pair of blocks. Lauren Stivrins was efficient from the middle as well, terminating eight times while hitting .500 and recording four blocks. Jazz Sweet had six kills on an error-free night for a .400 hitting percentage, and Mikaela Foecke had six kills.
Kelly Hunter had 32 assists, seven digs and four kills. Kenzie Maloney and Sydney Townsend each had eight digs for the Big Red.
Symone Abbott led Northwestern (14-17, 4-15 Big Ten) with 12 kills.
Set 1: Nebraska gained separation with a 5-0 run to go up 10-5 with Maloney serving an ace during the spurt. A solo block by Albrecht made it 12-6 Huskers, and Hunter dumped a kill for a 15-7 lead. Kills by Sweet and Holman during a 3-0 spurt made it 22-11, and the Huskers cruised to the 25-13 opening-set victory. NU hit a blistering .579 in the set with six Huskers posting at least two kills.
Set 2: Nebraska recovered from an early deficit to tie the set at 5-5 on a block by Foecke and Holman. An ace by Foecke gave the Big Red its first lead at 7-6. Back-to-back kills by Sweet, followed by a block by the freshman with Stivrins, made it 10-7 Huskers and forced a Northwestern timeout. Holman's third kill of the set kept the Huskers up by three at 16-13, but Northwestern drew within 16-15. A kill by Albrecht and a Wildcat hitting error restored a three-point lead at 18-15. Ahead 19-17, Nebraska got a kill and an ace from Albrecht, as well as a kill by Foecke to earn set point at 24-18. The Huskers finished off the set at 25-20 on Foecke's fourth kill of the match.
Set 3: Holman sparked a 5-0 run with two kills and a block, and Foecke added an ace for a 7-4 lead. A kill and solo block by Albrecht, coupled with Townsend's tough serve, increased the Husker lead to 11-6. Northwestern cut it to 14-13 before a Foecke kill earned a sideout. Stivrins and Sweet posted up for a block after a Sweet kill, and Maloney served an ace for an 18-14 Husker lead. A kill by Stivrins and ace by Atherton aided the Huskers down the stretch, and the Huskers capped the road portion of their Big Ten schedule with a 25-21 win.
Up Next: The Huskers conclude the regular season on Saturday against Iowa at 7 p.m. at the Devaney Center. Nebraska will honor its five seniors – Annika Albrecht, Allie Havers, Briana Holman, Kelly Hunter and Sydney Townsend – after the match.