Huskers Take Down Hawkeyes in Straight Sets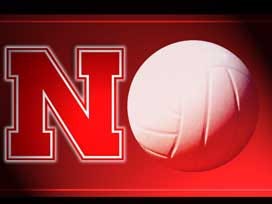 Posted By: Sports
Iowa City, Iowa- The No. 10 Nebraska volleyball team (23-5, 16-3) swept the Iowa Hawkeyes 3-0 (25-16, 25-18, 25-18) on Wednesday evening at Carver-Hawkeye Arena. The Huskers produced a solid night from the service line with a season-high 11 aces.
Kelsey Robinson led Nebraska on the night with 13 kills, 10 digs and four aces. She also hit at a clip of .320. Kadie Rolfzen tallied nine kills and a match-high 11 digs, while Melanie Keil notched six kills and zero errors for a .500 hitting percentage. Mary Pollmiller handed out 29 assists on the night, while Meghan Haggerty led NU at the net with four blocks and Alexa Ethridge also added four aces.
The Huskers hit .240 for the set, while Iowa hit .134. The Huskers out-blocked the Hawkeyes 7-5 and out-dug Iowa 41-31.
Aces set the Huskers apart early in the first set as Nebraska took an 11-8 lead. NU stretched its lead to 15-10 after a kill from Robinson and a hitting error on the Hawkeyes, as Iowa then called a timeout. Back-to-back kills gave the Huskers an 18-12 advantage, but Iowa cut into NU's lead at 20-18. Nebraska came back to hold on to win the first set 25-16.
Robinson led Nebraska in the first set with four kills, while Amber Rolfzen, Kadie Rolfzen and Keil all had two kills. The Huskers hit .138 for the set and had four aces, while Iowa hit .065.
Errors by the Huskers mounted up early in the second set as Iowa took a 9-6 lead. A 4-0 run from the Huskers gave NU the lead at 15-14 after a kill from Robinson. A block from Robinson made it 19-16, NU, as the Huskers use a 4-0 run to push ahead and win the second set 25-18.
Robinson tallied seven kills in the second set, while Kadie Rolfzen had four. Nebraska hit .321 for the set, while Iowa hit .250. NU out-blocked the Hawkeyes 2-0.
Kadie Rolfzen helped the Huskers to a 6-4 lead in the third set, as Haggerty put NU up 10-6. Robinson distanced the Huskers at 17-11, while a 4-0 run closed out the set for the Huskers at 25-18.
Robinson and Kadie Rolfzen both had five kills in the final set. Nebraska hit .256 and held Iowa to a .128 hitting clip.
The Huskers return home on Saturday, Nov. 30 as Nebraska will host the Penn State Nittany Lions for senior night. The match is slated for 7:30 p.m., and will air on the Big Ten Network.