Huskers Take Down North Dakota State in Norfolk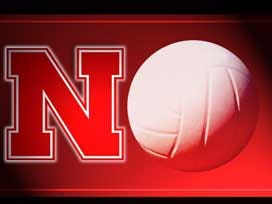 The Nebraska volleyball team remained undefeated in the spring season with a 3-0 sweep (25-16, 25-9, 25-22) of North Dakota State Saturday afternoon in front of a roaring, sold-out crowd at the Cox Activities Center in Norfolk, Neb.
Morgan Broekhuis led the Huskers on the afternoon with 12 kills, while Hayley Thramer impressed her hometown crowd with 10 kills on 14 attacks for a .643 hitting percentage. Lauren Cook notched 32 assists and 10 digs, while Hannah Werth led Nebraska defensive with 18 digs. The Huskers out-blocked the Bison 8-5 as a team and held NDSU to a .133 hitting percentage. Both Werth and Lara Dykstra recorded four service aces.
The Huskers opened the first set with a 3-1 lead behind back-to-back kills by Broekhuis. Thramer used two kills of her own to put NU up 10-5. The Bison made a run to make it 14-11, before Allison McNeal and Broekhuis each tabbed two kills to catapult the Huskers to a 16-11 lead. Nebraska did not look back, going up 22-13 behind a service ace by Cook. NU went on to take the first set 25-16, leading the match 1-0.
In the first set, Broekhuis led the Huskers with five kills on 12 attacks, while Thramer recorded four kills of her own. Cook notched 11 assists, while Nebraska recorded four team blocks, compared to NDSU's two team blocks.
In the second set the Huskers stifled the Bison, using a 10-point streak to go up 21-5 behind an ace from Werth and a kill from Thramer. Nebraska did not allow North Dakota State more than 10 points in the set, taking the second set 25-9.
Thramer and Werth both tallied three kills in the second set, while Cook notched eight assists. Nebraska out-dug North Dakota State 17-14, while the Huskers held the Bison to a .040 hitting percentage.
North Dakota State came out of the break taking an 8-4 lead over the Huskers. Thramer once again used back-to-back kills to put Nebraska within 8-6, while Mancuso notched a kill of her own to give the Huskers the lead. North Dakota State would tie it up again at 15-15, until Werth made it 17-15 with a kill. Cook and Cecilia Hall teamed up for a block to give the Huskers a 20-16 advantage and a subsequent kill by Hall put Nebraska up 22-16. Broekhuis sealed the 25-22 third set win with a kill, giving the Huskers a 3-0 sweep over North Dakota State.
Broekhuis led NU in the third set with five kills, while Mancuso had four kills of her own. Cook totaled 12 assists and four digs, while the Huskers notched a hitting percentage of .333 and two team blocks.
The Huskers will now return to the NU Coliseum for a home match as NU will take on Wichita State at 5 p.m. on Saturday, April 14.