Huskers Upend No. 1 Penn State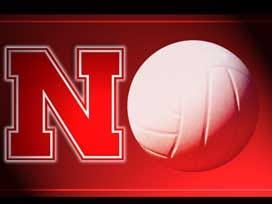 Posted by: Sports
The No. 4 Nebraska volleyball team (18-3, 10-2) took down the No. 1 Penn State Nittany Lions in a five-set (12-25, 32-30, 19-25, 25-23, 15-10) Coliseum thriller on Sunday afternoon. In front of a roaring 4,193 in attendance, Nebraska produced its third five-set win of the season.
Gina Mancuso led Nebraska on the day with 16 kills and 17 digs. Morgan Broekhuis posted 13 kills and 13 digs, while Meghan Haggerty had 12 kills and seven blocks and Hannah Werth notched 11 kills and a career-high 27 digs. Lauren Cook paced the Husker offense with 52 assists, also contributing 18 digs.
The Huskers posted a .171 hitting percentage in the match, while Penn State hit at a .237 clip. NU was out-blocked 14-11, but out-dug PSU 94-90.
The Huskers and Nittany Lions came out fighting in the first set as the two teams exchanged leads until a service ace by Werth tied the set at 7-7. Penn State then used an 8-0 run to go up 21-10. Nebraska's offense could not get enough momentum as the Huskers dropped the first set 25-12.
Mancuso and Haggerty both had two kills in the first set, while Cook notched just five assists. Nebraska was held to a -.103 hitting percentage and had just one team block. Penn State hit .273 in the set and had five team blocks.
Back-to-back kills by Cook gave Nebraska 6-4 lead early in the second set, but Penn State went on a 3-0 run to take a 10-7 lead and force Nebraska to use a timeout. Trailing 18-10, the Huskers were looking for a momentum swing their way as NU slowly began to inch back on an 8-1 run to make it 19-18, Penn State. An attack error by Penn State tied the set at 20-20, as the two teams tied up against at 21-21. A kill for Penn State put them up 24-22, but Nebraska came back to take a 26-25 lead on a kill from Broekhuis. The two teams battled back and forth at set point until Nebraska overpowered PSU for the 32-30 second-set win.
Werth had seven kills in the set, while Broekhuis notched five. Cook tabbed 18 assists, guiding NU to a .306 hitting percentage. Penn State hit .286 in the set.
Nebraska came out in the third set with a 2-1 lead on a kill by Broekhuis. Penn State came back to take a 9-4 lead over NU, while the Nittany Lions stretched their lead to 16-9 as part of a 5-0 run. A kill by Kelsey Fien cut the Penn State lead to 19-15, while a block from Haggerty made it 21-16, but the Huskers would not be able to capitalize as NU fell 25-19.
Mancuso had four kills in the third set, while Broekhuis notched three. The Huskers hit .178 in the set, while PSU hit .276.
Nebraska came out early in the fourth set to tie PSU at 3-3, while a kill from Haggerty put NU within one at 5-4. Penn State then took an 8-5 lead as Nebraska called a timeout. The Nittany Lions went up 13-8, while a kill from Mancuso and net violation on PSU tied the set up at 15-15. A block from Haggerty made it 17-15, Nebraska, while a kill powered through by Mancuso put Nebraska up 21-18. Four set points later, the Huskers would win the fourth set 25-23.
Five kills from Mancuso guided NU in the fourth set, while Haggerty notched four of her own. Cook paced the offense with 11 assists, as Nebraska tabbed a .200 hitting percentage. Penn State was held to a .154 hitting percentage.
As it came down to the fifth set, Nebraska took a 4-3 lead on a kill by Werth, while another kill from the senior put NU up 6-4 and forced Penn State to call a timeout. Nebraska went up 11-7 on a kill by Mancuso and then stretched the lead to 13-8 on a kill by Broekhuis. NU would close out the fifth set 15-10 and win the match 3-2.
Next up the Huskers will travel to Michigan and Michigan State to take on the Wolverines on Friday and the Spartans on Saturday.