Huskers Upset Razorbacks, Advance to Championship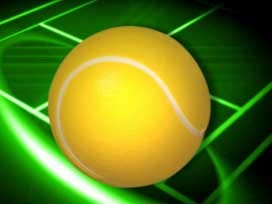 The No. 39 Nebraska women's tennis team stormed past No. 24 Arkansas by a score of 5-2 on Saturday afternoon, advancing to the championship game of the ITA Kick-Off Weekend tournament in Evanston.The Huskers swept the Razorbacks in doubles play before winning four out of six singles matches to secure their victory.
Mary Weatherholt and Patricia Veresova (NU) kicked things off for the Huskers, making quick work of Stephanie Roy and Emily Carbone (ARK), 8-1 at the No. 2 doubles position.
No. 43 Madeleine Geibert and Stefanie Weinstein (NU) then clinched the doubles point for the Huskers, downing Claudine Paulson and Laurie Gingras (ARK), 8-4 at the No. 1 position.
Jennifer Holmberg and Maike Zeppernick (NU) completed the sweep for the Big Red, defeating Kate Lukomskaya and Catherine Paterneau (ARK), 8-5 in No. 3 doubles.
The Huskers moved to the singles court with a 1-0 lead and quickly extended that lead to 3-0 with wins in No. 1 and No. 4 singles. No. 50 Weatherholt cruised past Roy, 6-3, 6-1 on the No. 1 singles court before No. 100 Weinstein handed Lukomskaya a 6-2, 6-2 loss at the No. 4 position.
Arkansas would attempt to battle back, cutting NU's lead to 3-2 with a pair of singles wins. The Razorback's Paulson edged Geibert at the No. 3 position, 7-6, 6-2 before Parenteau defeated Izabella Zgierska (NU) in No. 6 singles, 7-6, 6-2.
Nebraska refused to let up, digging in and winning a pair of tiebreakers to clinch the final two singles wins and the match. No. 84 Janine Weinreich (NU) topped Gingras, 6-2, 7-6 in No. 5 singles to give the Huskers the fourth point needed to clinch the victory. Veresova finished things off for the Big Red, downing Carbone 5-7, 6-2 (10-8) in No. 2 singles to wrap up the match.
The win advances the Huskers to the championship match of the Evanston Regional tomorrow, where they will face conference foe Northwestern. The No. 12 Wildcats swept No. 57 Dartmouth, 7-0 to capture a spot in the championship. The match will begin at 2 p.m., with the winner clinching a berth in the ITA National Team Indoor Championships at the University of Virginia in February. Live stats will be made available on Northwestern's website at NUSports.com, or by following the link at the top of the page.
No. 39 Nebraska vs. No. 24 Arkansas
ITA Kick-Off Weekend–Semifinals
Combe Tennis Center
Evanston, Ill.
Singles
1. No. 50 Mary Weatherholt (NU) def. Stephanie Roy (ARK), 6-3, 6-1
2. Patricia Veresova (NU) def. Emily Carbone (ARK), 5-7, 6-2 (10-8)
3. Claudine Paulson (ARK) def. Madeleine Geibert (NU), 7-6, 6-2
4. No. 100 Stefanie Weinstein (NU) def. Kate Lukomskaya (ARK), 6-2, 6-2
5. No. 84 Janine Weinreich (NU) def. Laurie Gingras (ARK), 6-2, 7-6
6. Catherine Parenteau (ARK) def. Izabella Zgierska (NU), 7-6, 6-2
Doubles
1. No. 53 Madeleine Geibert/Stefanie Weinstein (NU) def. Claudine Paulson/Laurie Gingras (ARK), 8-4
2. Mary Weatherholt/Patricia Versova (NU) def. Stephanie Roy/Emily Carbone (ARK), 8-1
3. Jennifer Holmberg/Maike Zeppernick (NU) def. Kate Lukomskaya/Catherine Paterneau (ARK), 8-5
Order of finish
Doubles (2, 1, 3)
Singles (1, 4, 3, 6, 5, 2)=