Huskers Visit Northwestern for Last B1G Road Match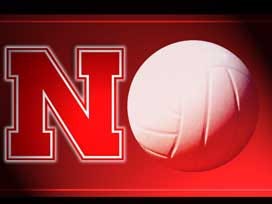 Posted By: Sports
sports@klkntv.com
Courtesy: UNL Media Relations
The fifth-ranked Nebraska volleyball team enters the final week of the regular season seeking two wins to clinch at least a share of the Big Ten title. The Huskers will look to win back-to-back Big Ten titles for the first time since joining the conference in 2011. Standing in the way first is a match at Northwestern on Wednesday at 7 p.m., at Evanston Township High School in Evanston, Illinois. Northwestern's home matches are being played there this season while Welsh-Ryan Arena undergoes renovation. The match will be streamed online with a BTN Plus or FloVolleyball.TV subscription.
Husker Sports Network will broadcast all the action on HSN affiliates including 107.3 FM in Lincoln and 105.9 FM in Omaha. A live audio stream will be provided at Huskers.com and on the official Huskers app. John Baylor is in his 24th season doing play-by-play for the Husker volleyball program. Lauren Cook, a former All-America setter for the Huskers, will provide color commentary.
Nebraska and Penn State enter the final week with 17-1 conference records. Penn State's remaining schedule is at Wisconsin on Friday and at Minnesota on Saturday. If two or more teams share the same conference record at the end of the season, they are co-champions regardless of the head-to-head results during the season.
About the Huskers
• The Huskers are 24-4 overall and 17-1 in the Big Ten and are riding an 11-match win streak, their longest of the season. A win on Wednesday would match the Huskers' most-ever wins in Big Ten play, 18, which they set last season to win the conference title outright.
• Nebraska ranks 16th nationally and first in the Big Ten in opponent hitting percentage at .154. The Huskers rank 14th nationally in hitting at .281.
• The Huskers rank second among Big Ten teams in digs per set at 15.06.
• Nebraska is 23rd nationally and fourth in the Big Ten in kills per set at 14.21.
• In conference matches only, the Huskers are first in opponent hitting (.164), second in hitting (.297) and second in aces (1.46 per set).
• Mikaela Foecke leads the team with 3.51 kills per set and adds 2.29 digs per set in her first season as a six-rotation player.
• Annika Albrecht provides 2.97 kills per set and 2.76 digs per set. Albrecht has 130 career service aces, which is tied for seventh in NU career history.
• Senior middle blocker Briana Holman averages 2.39 kills and 1.09 blocks per set with a team-best .338 hitting percentage.
• Jazz Sweet adds 2.26 kills per set as the right-side hitter.
• Kelly Hunter, a two-time Big Ten Setter of the Week this season, is putting up 10.77 assists per set and 2.56 digs per set. The only NCAA Division I setter who has set her team to both a national and conference championship, Hunter ranks third in school history with 3,829 career assists at NU.
• Nebraska head coach John Cook has moved to fifth all-time in NCAA Division I career win percentage at .828, passing former Stanford coach John Dunning.
• Nebraska's win at Maryland on Saturday was the Huskers 1,300th in program history, becoming the first Division I volleyball program to reach the 1,300 mark.
Coaches
• John Cook, Nebraska: 18th year at Nebraska (523-69); 25th year overall (684-142)
• Shane Davis, Northwestern: 2nd year at Northwestern (24-38); 14th year overall (289-126)
Series History
• Nebraska is 11-1 all-time against Northwestern and 7-1 in the Big Ten era. After dropping the first-ever meeting between the teams as conference foes in 2011, Nebraska has won seven straight in the series, the last four coming in sweeps. The teams met on Oct. 20 in Lincoln, and Nebraska won 25-20, 25-15, 25-12.
Scouting Northwestern
• Northwestern brings a 14-16 overall record and 4-14 Big Ten record into the match. The Wildcats are one of the top serving teams in the Big Ten this season with 1.53 aces per set, which ranks second in the conference and 37th nationally. Northwestern is hitting .249 on the season and is allowing opponents to hit an average of .248. The Wildcats lean heavily on the arm of Symone Abbott, who leads the team with 4.02 kills per set, second-most in the Big Ten and 41st nationally.
Hunter Guides Young Husker Squad
• All-America setter Kelly Hunter is in her senior season after leading NU to a national championship and a Big Ten championship the past two seasons as team captain and starting setter.
• Hunter was a second-team AVCA All-American in 2016 and an All-Big Ten setter, becoming the first Husker setter since Lauren Cook in 2012 to make the All-Big Ten team. She is a preseason All-Big Ten selection.
• Hunter ranks third in school history with 3,829 career assists at NU.
• Hunter was named the Big Ten Setter of the Week on Sept. 11 after a double-double of 31 assists and 14 digs against UCLA on Sept. 9.
• She added another honor on Sept. 25 after averaging 12.33 assists in sweeps at Penn State and Rutgers. She has eight career weekly Big Ten awards.
• For the season, Hunter is averaging 10.77 assists per set and 2.56 digs per set.
Albrecht Steps Up as Senior Captain
• Senior outside hitter Annika Albrecht was named a team captain along with Kelly Hunter prior to the season and has stepped into her new role as a six-rotation hitter for the Huskers.
• Albrecht provides 2.97 kills and 2.76 digs per set along with 25 service aces. She is tied for seventh in school history in career aces with 128.
• The North Aurora, Illinois native made national headlines this season when she tallied a career-high 19 kills on .400 hitting in a 3-0 sweep at Penn State on Sept. 22. For her performance, Albrecht was named the Big Ten Player of the Week, Sports Imports/AVCA Player of the Week and the espnW Player of the Week. The honors were all the first of her career.
Foecke Excelling in Six-Rotation Role
• Junior outside hitter Mikaela Foecke is averaging 3.51 kills per set to lead the Huskers. She received All-Big Ten honorable mention in 2016 and was an AVCA All-Region honoree.
• Foecke worked hard to become a six-rotation player entering her junior season and has been effective in that role, adding 2.29 digs per set. Foecke has seven double-doubles this season and leads the team in aces with 31.
• Foecke was named Big Ten Player of the Week on Oct. 30 after 14 kills, five digs and three blocks at Michigan State and 13 kills, nine digs and five blocks at Michigan.
• Foecke was a unanimous preseason All-Big Ten selection and was one of just two players to earn a unanimous selection (Minnesota setter Samantha Seliger-Swenson).
• Foecke was the NCAA Championship Most Outstanding Player in 2015 – becoming just the third freshman to earn the honor – after 19 kills on .385 hitting in the championship win against Texas. The other freshmen to win the award were Deja McClendon (Penn State, 2010) and Kerri Walsh (Stanford, 1996).
Holman Leads Husker Middle Blockers
• Senior Briana Holman guides a relatively young group of Husker middle blockers, as she teams with redshirt freshman Lauren Stivrins and is backed up by true freshman Chesney McClellan.
• Holman is averaging 2.39 kills and a team-high 1.09 blocks per set for the Huskers while hitting a team-best .338. She was named Big Ten Defensive Player of the Week on Sept. 5 and the MVP of the Ameritas Players Challenge after a dominating display over three matches with 25 kills and 18 blocks on .525 hitting.
• Holman earned AVCA All-Region honors for the third time in her career last season and received All-Big Ten honorable mention.
• Holman was a first-team AVCA All-American at LSU in 2014 with 3.94 kills and 1.47 blocks per set. She was a two-time All-SEC performer for the Tigers and represented the U.S. Collegiate National Team at the World University Games in South Korea in July 2015.
Huskers Turn to Freshmen for Instant Impact
• With five true freshmen and two redshirt freshmen on the roster, the Huskers needed some new talent to step up in a big way in 2017, and that has happened. All seven have seen playing time this season.
• Redshirt freshman middle blocker Lauren Stivrins is averaging 2.11 kills per set and 0.98 blocks per set.
• Freshman outside hitter Jazz Sweet is fourth on the team in kills at 2.26 per set and is hitting .274. Sweet had an outstanding debut with 14 kills on .375 hitting against Oregon and 16 kills on .323 hitting at Florida.
• Redshirt freshman setter Hunter Atherton has made two starts and played in 16 matches and has 137 set assists, 44 digs and 10 service aces.
• Freshman outside hitter Anezka Szabo, who plays the same right-side hitter position as Sweet, tallied 10 kills on .400 hitting against Saint Mary's and has played in 13 matches.
• Freshman defensive specialist Hayley Densberger has earned a reputation as one of the Huskers' best servers and has four aces and 22 digs in 23 matches played.
• Freshman middle blocker Chesney McClellan has played in four matches and started the Rutgers match on Sept. 23, producing seven kills and four blocks on .462 hitting.
• Freshman outside hitter Sami Slaughter has played in five matches and had four kills in limited action against Rutgers on Nov. 12.
NCAA Selection Committee Puts Huskers at No. 2 in Initial Top 10
• The NCAA Tournament selection committee released its initial top 10 teams on Nov. 1 as of matches played through Oct. 29. Nebraska was ranked second behind Penn State. Minnesota and Stanford were third and fourth, respectively.
• When the official NCAA Tournament bracket is announced on Sunday, Dec. 3, the top four teams will be eligible to host an NCAA regional should they advance past the second round. Last year, Nebraska was the No. 1 overall seed and hosted a regional at the Devaney Center.
Huskers Ranked No. 5 in AVCA Coaches Poll
• Nebraska is ranked No. 5 in this week's AVCA Coaches Poll, the same spot they held last week.
• The Huskers have been ranked No. 1 in 98 all-time polls, the most in NCAA history.
• The Huskers have been ranked in the top 10 a total of 468 times, which is also the most in NCAA history.
• Nebraska has appeared in all 523 AVCA Coaches Polls since it was established in 1982. Nebraska and Stanford are the only two programs to be ranked in every poll all-time.
Hunter, Townsend Earn CoSIDA Academic All-District Honors
• Senior setter Kelly Hunter received CoSIDA Academic All-District first-team honors in November, while Sydney Townsend was a second-team honoree. Hunter advances to the national ballot for CoSIDA Academic All-America honors.
• Hunter, a Papillion-La Vista South graduate, carries a 3.45 cumulative GPA and is a graduate student in the Master of Business Administration program. Hunter received her bachelor's degree in management/marketing last year.
• Townsend, a Lincoln Pius X graduate, carries a 3.83 GPA majoring in biochemistry. Townsend was the NCAA Elite 90 Award winner last year at the final four and is a two-time Big Ten Distinguished Scholar and a four-time academic All-Big Ten selection.
Cook Adds to Legacy; Will Join AVCA Hall of Fame in December
• Nebraska head coach John Cook is in his 18th season as the Nebraska volleyball head coach in 2017. He has led the Huskers to three national championships, seven final fours, 11 conference championships and 15 top-10 final rankings since 2000. Cook has 684 career wins and is one of the all-time winningest coaches in NCAA history.
• Since taking over the program in 2000, Cook has led the Huskers to a nation-leading .883 win percentage in that time (523-69).
• Under Cook, the Huskers have achieved 49 AVCA All-Americans and 19 CoSIDA Academic All-Americans, both among the best in the nation. He is a two-time AVCA National Coach of the Year, earning the prestigious honor in 2000 and 2005, and a six-time conference coach of the year, including Big Ten Coach of the Year in 2016, his first Big Ten honor with the Huskers in their Big Ten era (2011-present).
• Cook was named the AVCA North Region Coach of the Year this season, his fifth career regional coaching honor and fourth while at Nebraska.
• Cook is one of only four active coaches – and one of six all-time – to be a two-time AVCA National Coach of the Year and was honored in 2008 by USA Volleyball, receiving its All-Time Great Coach Award.
• Cook will be inducted into the AVCA Hall of Fame in December in Kansas City, Missouri. Cook will join former Husker volleyball coach Terry Pettit in the hall.
Husker Fans Set Attendance Standard Once Again
• Nebraska fans led the nation in attendance for a fourth straight season as their 8,210 average per match in 2016 established a new NCAA attendance record, topping its 2015 average of 8,206.
• The Huskers' total attendance of 155,986 in 19 home matches also set a school record.
• In 2013, the Huskers led the nation in attendance (8,175) for the first time since 1992, ending Hawaii's 21-year reign as the national leader.
• The Huskers repeated as attendance champions in 2014 with 8,083 fans per match, which included a school-record 8,585 fans at the Oct. 3 win against Penn State.
• Nebraska has ranked in the top three nationally in attendance every season since 1990 (27 straight seasons).
• The Huskers have sold out every regular-season match since 2001, a streak of 233 consecutive matches, the longest sellout streak in the history of NCAA women's athletics.
• The Devaney Center has hosted three of the four largest regular-season crowds in NCAA history and six of the 10 largest.
Huskers Get Depth From Former Husker Women's Basketball Player Allie Havers
• The Huskers gained some depth at middle blocker when former Husker women's basketball player Allie Havers joined the team in the spring.
• Havers, a 6-5 native of Mattawan, Michigan, has one season of eligibility to play volleyball, a sport she excelled at in high school. Havers was a first-team Class A all-state player in Michigan in 2012 and a finalist for Michigan's Miss Volleyball in 2013.
• On the Nebraska women's basketball team, Havers closed her career having played in 125 games with 50 starts. She ranked among the top 50 career scorers (720 points) and top 25 career rebounders (541) in Husker history.
Cook's Coaching Tree Continues to Grow
• Nebraska head coach John Cook's assistant coaches have a great track record of moving on to become head coaches.
• After the 2016 season, Nebraska assistants Chris Tamas and Dani Busboom Kelly both accepted high-level Division I head coaching jobs. Busboom Kelly became the head coach at Louisville, while Tamas accepted the head coaching job at Big Ten foe Illinois.
• Seven assistants under Cook have become head coaches following their time on Cook's Nebraska staff: Craig Skinner (Kentucky), Lee Maes (Virginia), Lizzy Stemke (Georgia), Dan Conners (UC Davis), Dan Meske (Augustana, Associate Head Coach at Louisville), Busboom Kelly and Tamas.
• In the last seven years, five of Cook's Husker assistants have become head coaches.
New Players, New Coaches
• Not only are six of the 15 Husker players new to the program, so are the two Husker assistant coaches. Former Husker and U.S. Olympic libero Kayla Banwarth, and former Long Beach State men's associate head coach Tyler Hildebrand are on the Husker bench this year.
• Hildebrand joined the Nebraska coaching staff as an assistant in February of 2017. Hildebrand came to Nebraska after five seasons on the coaching staff of the Long Beach State men's volleyball program, including two seasons as associate head coach. In 2017, he was the AVCA Division I-II Men's National Assistant Coach of the Year. A former All-American at Long Beach State, Hildebrand was the top assistant there from 2013-15 after a decorated playing career on the U.S. Men's National Team. He is a former setter who coordinated both the offense and the blocking defense at Long Beach State at one point in his career.
• Banwarth joined the Nebraska volleyball coaching staff as an assistant in January of 2017. Banwarth completed an illustrious playing career for the Huskers in 2010 before embarking on a professional playing career that saw her win an Olympic bronze medal with the U.S. National Team, as well as an FIVB World Championship. Banwarth is relatively new to the coaching profession after finishing her professional career with the U.S. National Team at the Olympic Games in Rio de Janeiro in 2016. A U.S. National Team libero since 2011, Banwarth spent two years as a volunteer assistant coach for the Pepperdine men's volleyball team.