Huskers win 14th straight match with sweep of Iowa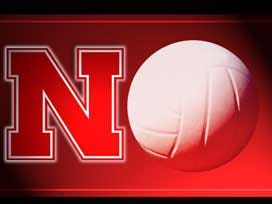 Posted By: Sports
Sports@klkntv.com
Courtesy: NU Media Relations
IOWA CITY, Iowa – The top-ranked Nebraska volleyball team won its 14th straight match with a 25-17, 25-19, 25-13 win over Iowa before a Hawkeye school-record crowd of 4,131 at Carver-Hawkeye Arena on Saturday night.
The Huskers (26-1, 17-1 Big Ten) took another step toward a Big Ten title with their 24th straight win away from the Devaney Center. Nebraska, which has won 16 straight sets dating back to November 4, enters the final week of the regular season one match ahead of Wisconsin and two matches ahead of Minnesota in the conference standings.
Nebraska got efficient nights from its outside hitters to sweep the Hawkeyes (19-11, 9-9 Big Ten) for the 15th straight time. Andie Malloy had 14 kills on .462 hitting to go with a season-best five blocks, while Mikaela Foecke tallied 10 kills on .600 hitting with a season-high eight digs. Kadie Rolfzen added nine kills, while Briana Holman had six kills and Amber Rolfzen had four to go with six blocks.
Kelly Hunter paced the attack with 41 assists, and Justine Wong-Orantes had a match-high 13 digs to lead Nebraska to a 49-34 digs advantage. The Huskers outhit the Hawkeyes .310 to .144 and also had an 8-4 blocks advantage.
Set 1: Iowa led 9-6 as the Huskers committed five attacking errors early. A dump by Hunter snapped a 3-0 Iowa spurt and started a 6-0 run for the Huskers. Foecke painted the floor twice, Holman had a kill and Sydney Townsend served an ace during the run that gave the Huskers a 12-9 lead. The lead became 16-10 after another Foecke kill and an ace by Hunter. A kill by Holman, a combo block by Malloy and Amber Rolfzen, and a Malloy kill made it 20-13 Huskers. After an Iowa timeout, Malloy tallied another kill, followed by Kadie Rolfzen for a 5-0 run and 22-13 lead. Another Malloy/Amber Rolfzen block gave Nebraska set point, and the Huskers won 25-17 on Malloy's fifth kill. Foecke and Malloy combined for 10 kills on .533 hitting in the set, while the Huskers had a huge edge in digs, 19-8, and outhit the Hawkeyes .273 to .111.
Set 2: Iowa took another early lead, this time at 6-3. Again, the Huskers were quick to respond. Malloy had a kill, and the Rolfzen twins had a stuff block before a Kadie Rolfzen kill tied the set. Iowa regained an 11-7 lead, however, with a 4-0 run. Hunter and Amber Rolfzen got a stuff block, and Annika Albrecht struck a kill to get the Huskers within 11-10. Kills by Amber Rolfzen and Hunter evened the set again, 12-12, and Iowa hit wide to give Nebraska a 13-12 lead. A trio of kills by Malloy and a Kadie Rolfzen ace put the Huskers ahead 19-17, and Iowa took a timeout. After the break, the Hawkeyes hit long and Malloy put down her 10th kill of the match before the Hawkeyes made an error for a 22-17 Husker lead via a 5-0 run. Nebraska took a 2-0 lead into intermission with a 25-19 win. Malloy continued her strong night with six kills and no errors in the set.
Set 3: The Huskers wasted no time in taking control, jumping in front 6-1 with five kills and a Foecke ace. A block by Malloy and Amber Rolfzen, back-to-back aces by Wong-Orantes and an Iowa hitting error built the lead to 11-2. Nebraska led 20-7 after two kills by Foecke and one by Kadie Rolfzen as part of a 4-0 run. The Big Red won 25-13 on Kadie Rolfzen's ninth kill. Nebraska hit .324 in the set and held Iowa to .071.
Up Next: Nebraska begins the final week of the regular season at No. 2 Minnesota next Wednesday at 8 p.m. on BTN.