Huskers Win Five-Set Contest with Purdue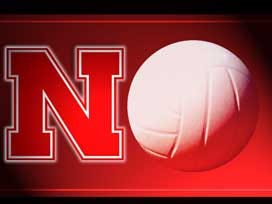 Posted by: Sports
The No. 9 Nebraska volleyball team (20-5, 12-4) completed the season sweep of Purdue on Saturday evening, taking down the Boilermakers in five sets (21-25, 25-16, 23-25, 25-19, 15-10). Tonight's match marked the Huskers' fourth five-setter in the last five matches.
NU saw three Huskers post double-doubles on the night as Cook had 53 assists and a career-high 25 digs. Gina Mancuso led the offense with 20 kills and 12 digs, while Hannah Werth had 18 kills and 13 digs. Lara Dykstra posted 18 digs for Nebraska, while Hayley Thramer had six kills and 10 blocks.
The Huskers hit .312 as a team on the night, while Purdue hit .220. NU out-blocked the Boilermakers 12-5, but were out-dug 83-81.
Nebraska went up 4-3 early in the first set on a kill by Werth, but Purdue answered with a string of runs that left the Huskers in a 16-11 hole. An error by the Boilermakers followed by a double-stuff block from Thramer and Alexa Strange but NU within two at 19-17 and forced Purdue to use a timeout. The Huskers would eventually fall 25-21 in the first set, trailing 1-0 in the match.
Mancuso had five kills for NU in set one, while Haggerty notched three. Cook tabbed 14 assists, while the Huskers hit. 371 for the set and Purdue hit .429.
NU went up 9-5 in the second set on a solo block by Thramer, while a kill from Werth made it 12-9, Huskers. A solo block by Cook gave Nebraska an 18-14 advantage, as a double-stuff block by Thramer and Werth gave Nebraska the second set at 25-16 and tied the match at one set apiece.
Mancuso and Werth both had three kills in the second set, while Cook recorded nine assists and the Huskers hit .391. Purdue was held to a .054 hitting percentage.
Nebraska opened the third set trailing 7-4, but inched back to take an 11-10 lead on a kill by Thramer and an ace by Cook. Purdue came back to tie the set three times before taking a 17-16 lead and forcing Nebraska to use a timeout. A kill by Mancuso put NU within 23-20, while a kill from Werth made it 24-23, Purdue. The Boilermakers ended up taking the third set 25-23, leading the match 2-1.
Mancuso and Werth tallied five kills each in the third set, while Cook had nine assists. Nebraska hit .178 in the set, while Purdue hit .238, as the Boilermakers out-blocked NU4-2.
A service ace by Cook kicked off the fourth set, while the Huskers and Boilermakers knotted up at 10-10. A kill by Mancuso gave Nebraska a 15-13 advantage, while Broekhuis powered a kill through to make it 19-15, Huskers. An emphatic kill by Werth gave Nebraska a 22-17 lead and powered NU to a 25-19 fourth-set win, tying the match at two sets piece.
Werth and Mancuso led Nebraska in the fourth set with six kills each, while Cook dished out 13 assists. Nebraska hit .340 in the set, as the Boilermakers notched a .256 hitting percentage.
A block by Kelsey Fien put NU up 3-2 in the fifth set, while Werth produced three-straight points to make it 8-4, Huskers. A kill by Haggerty stretched NU's lead to 10-6, as the Huskers went on to take the fifth set 15-10.
Broekhuis, Haggerty and Werth al had two kills in the fifth set, as the Huskers notched a .348 hitting percentage. Purdue was held to a .103 hitting percentage in the set.
Up next the Huskers will travel to Minneapolis, Minn., to take on the Minnesota Gophers on Friday, Nov. 16 before facing the Wisconsin Badgers in Madison, Wis., on Saturday, Nov. 18.