Ice Storm puts linemen to work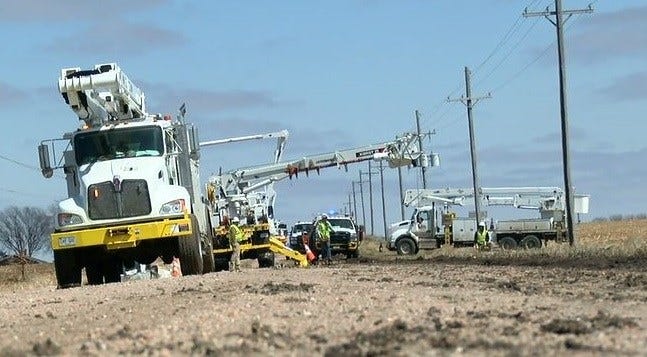 Posted By: Channel 8 Eyewitness News
8@klkntv.com
The worst ice storm in a decade plunged thousands into darkness. Even with the lights on, and sun shining, linemen say there are days, weeks, even months of repairs ahead.
With their trucks lifting new poles into place, those linemen create poetry in motion.
"The ice came, the wind blew, out came the line crews," said Colby Easterberg, a foreman with Southern Power District.
Snow wasn't the problem, but a half-inch of ice and high winds created a nightmare scenario for guys like Easterberg.
"Everything starts rocking back and forth till something breaks, once something breaks it keeps going," he said of the storm.
The call it galloping, as the lines shake. An area north of Grand Island saw a lot of that, as fierce winds continued to blow while they tried to make repairs.
Easterberg said, "We'd get out there on a line start repairing what we found was the problem the first time, once we got it fixed we'd turn it on and there'd be another problem, just keep going."
Southern Power estimates more than 6,000 customers lost power.
They all got it back in less than a day and a half.
"We are tremendously impressed with the tireless efforts of those linemen throughout the day," said SPD Communications Director LeAnne Doose.
Some linemen stayed out 24 hours, working in harsh conditions, but say it's the job they signed up for.
"You don't really notice it when you're working in it, you have that adrenaline rush, just want to get customers back on," Easterberg said.
Even with power restored, there are irrigation customers to help, and vulnerabilities the next storm could expose.
"It is possible that there's a small area affect that we can't see right now and might show itself sometime down the road when we have another storm," Doose said.
As Easterberg lets out a loud "woo" with a pole successfully placed, linemen are energized by a job well done.
"It's a proud moment for all of us here at Southern," Easterberg said.
That's not to say there weren't any problems. For one thing, Southern's phone system was overloaded.
The other thing they need to do is count the damage and figure out the cost.