Illegal Immigration bill could be introduced in Nebraska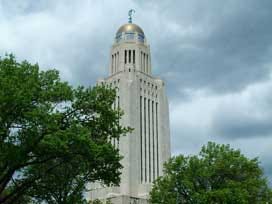 Could Nebraska have an immigration law similar to the one in Arizona? One State Senator plans on introducing a bill similar to it, in the next legislative session. Immigration has been the hottest topic in Fremont over the past couple of years and at the end of next month, they'll vote on their own immigration proposal…as you can imagine just about everyone has an opinion on the issue.
Some of this outrage over the immigration law in Arizona could be coming to the Cornhusker state. Senator Charlie Janssen of Fremont, plans on introducing a bill very similar in the next legislative session. This has some in his district outraged, including Rebecca De Luna, an American born citizen, who's called Fremont home for almost 20 years.
"I was born here but I look like a Mexican and they're going to stop me whenever I'm walking on the streets or something," De Luna said.
In Arizona's bill you must be breaking the law on another offense, before police can pull you over for being suspicious of your citizenship. De Luna, worries it will cause racial profiling…Senator Janssen says that's the bills biggest hurdle.
Other people in the small town, like Ted Niess support the Arizona law, saying if you're here illegally, you either should try to become a citizen or shouldn't be here.
"My grandfather came from Germany he was an immigrant, but he went through the process of getting his citizenship and learning English and I believe that's what it should be with these people," Niess said.
The bill is already drafted, but Senator Janssen says it could be changed based on what happens in Arizona come July when the bill is supposed to take affect. Next month Fremont has a major proposal they'll need to vote on…it'll ban hiring and renting to illegal immigrants.
The next legislative session doesn't start until January, Senator Janssen says the only way he won't introduce it is if someone has a better bill.