Illinois Beats Nebraska for First Time in B1G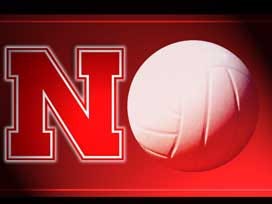 Posted By: Sports
Story Courtesy: Nebraska Athletics
Lincoln – The No. 13 Nebraska volleyball team (11-6, 5-3 Big Ten) fell to No. 15 Illinois (14-5, 6-2 Big Ten) at the Bob Devaney Sports Center on Saturday afternoon, 3-1 (23-25, 25-21, 25-27, 21-25).

Alicia Ostrander had a career-high 19 kills to lead the Huskers. Kadie Rolfzen had 12 kills, and Amber Rolfzen had 11 kills and 13 digs. Cecilia Hall had six kills and eight blocks, while Meghan Haggerty had six kills and five blocks. Mary Pollmiller added six kills with her 44 set assists. Justine Wong-Orantes had 22 digs.

Illinois' Morganne Criswell had a season-high 21 kills, while Jocelynn Birks, the Big Ten leader in kills per set in conference play, had 19. Alexis Viliunas had 56 assists.

Illinois narrowly outhit Nebraska .228 to .224. Both teams had 14 blocks and 68 digs.

Illinois took set one, 25-23, coming back from a 20-18 deficit to take a 21-20 lead after a Birks kill. The Huskers tied it up at 22-22 on a kill by Hall, but a Katie Stadick kill and block with Viliunas gave Illinois a 24-22 lead, forcing a Husker timeout. After Illinois let Nebraska within one via a service error, Criswell finished off the set with a shot to the back row.

The Huskers led 7-4 in set two but let Illinois go on a 4-0 run to gain an 8-7 lead. With the set tied 16-16, Illinois committed a service error and Ostrander killed to make it 18-16 and force an Illinois timeout. Nebraska never allowed Illinois to draw even again in the set. The Huskers separated from a 19-18 lead with a 4-0 run with two kills by Kadie Rolfzen and a block by Hall and Amber Rolfzen to make it 23-18. Illinois fought off three set points, but the Huskers finally ended it at 25-21 on a kill from Hall right down the middle.

Set three was back-and-forth the whole way. The Illini claimed a three-point lead at 18-15, but the Huskers clawed back with a dump by Pollmiller, a kill by Ostrander and then an Ostrander/Hall block to even it at 18-18. Illinois got back-to-back kills by Criswell to go up 23-21, and another Criswell kill gave the Illini set point at 24-22. Nebraska came back to tie it on kills by Haggerty and Kadie Rolfzen. With the set tied at 25-25, Liz McMahon won a long rally for Illinois, and the Huskers misfired to give Illinios the edge in the match with a 27-25 victory.

Set four began with a 4-0 Illinois run, and the Illini extended the lead to 10-4, forcing the Huskers to use their second and final timeout of the set. Criswell had two blocks and a kill during a 3-0 spurt to put the Illini up 10-4. Trailing 17-11, the Huskers put together a furious rally to pull within 19-17 and force an Illini timeout. Haggerty had a kill and two blocks along the way. But the Huskers could get no closer, as Illinois pulled away to the 25-21 win.

Nebraska is on the road for the next four matches, beginning at Minnesota on Wednesday at 6:30 p.m. That match will be on BTN.?