"in God We Trust" added to Nebraska courthouse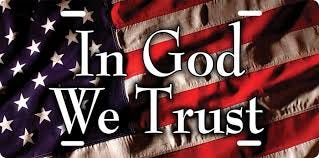 POSTED BY: Channel 8 Eyewitness News
8@klkntv.com
PENDER, Neb. (AP) _ A divided Thurston County Board of Supervisors has decided to add the motto "In God We Trust" on a prominent place in the county courthouse.
The supervisors voted 4-2 on Monday to put the phrase in letters of a readable size in the boardroom of the courthouse.
Valentine resident Barb Otto spoke to the board Monday before they voted. Otto is traveling the state to encourage county elected officials to add the religious-motivated phrase in public buildings.
Supervisor Darren Wolfe says displaying the motto isn't good public policy because it violates the separation of church and state.
A conservative legal defense organization called the Pacific Justice Institute is ready to defend any lawsuit that would be filed against the county taking that step. ___
Information from: Sioux City Journal