Insanity defense bill advances in Legislature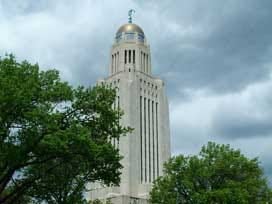 Nebraska lawmakers have granted first-round approval to a bill that would eliminate temporary mental illness as a defense for accused criminals who voluntarily drank or used drugs before the crime.
The proposal by Sen. Colby Coash of Lincoln cleared its first floor vote Monday. The measure includes exceptions for involuntary intoxication, or when long-term addiction has caused mental illness that continues when a person is sober.
State Sen. Brenda Council of Omaha said she opposed the bill because it was based on high-profile cases, and denies juries the ability to consider the circumstances of a case. In 2007, Shane Tilley of Lincoln, was committed to the Lincoln Regional Center after being found not guilty by reason of insanity for killing a friend while high on cough medicine. Last summer, Tilley esccaped from the Regional Center during an walk on the grounds. Tilley could not be charged with escape because he had never been convicted.
Lawmakers approved the measure with a 40-2 vote. Nebraska would join 34 other states with similar laws, if the bill wins final approval and is signed by Gov. Dave Heineman.