International students welcomed to Lincoln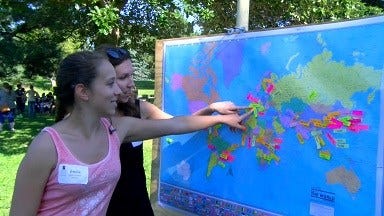 Posted By: Kelsey Murphy
Lincoln's Rotary Group Number 14 hosted the 11th annual "Welcome to America" picnic Sunday afternoon.
The group brought students from around the world together to play games, try some tasty treats, and meet other international students.
"It's mind boggling how friendly and inviting everybody is here," says Rinn Har, Estonia exchange student.
"When ever you walk out in the streets everyone will say hi, hello with a smile on their face, and I like that, says Manbir Rakkar, India exchange student.
All of the students present Sunday are exchange students from the University of Nebraska Lincoln, Union College, Wesleyan University, and Doane College.