Interstate conditions Thursday night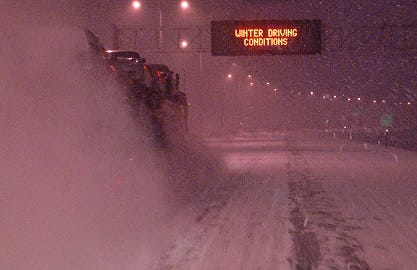 By: Cole Miller
cmiller@klkntv.com
"Oh, you just don't want to be out in it. It's not something that's pleasantly endured," truck driver Chris Clendenon said.
It's a combination of wind, patchy ice and low visibility along Interstate 80 Thursday night.
"When the conditions get like this, you need to find yourself a place to stay," Charle Steed said.

And that's what many drivers are doing.
West of Lincoln, those we spoke to say blowing snow has been a big problem.

"I had to stop because I couldn't see anything, otherwise I was going into a ditch and I didn't want that!" Jacob Arey said.
"That stretch from North Platte to Grand Island was the worst of it."
Earlier Thursday, ice played a role in putting one semi on its side. It happened just west of the Highway 77 southbound interchange. The two people inside made it out unharmed.
And while crews work to improve conditions, drivers say it's just best to wait things out.
"If you don't have to be out here, it's not a place for you if you're not good at driving," Clendenon said.
"I would just not drive at night. Wait until the storm is over, that's the safest thing to do," Arey said.

As of right now, there are no interstate closures according to 511 Nebraska. However, many stretches are labeled "extreme caution," meaning if you do have to be out, take it slow and give yourself plenty of time.