It could feel like 105 degrees or higher today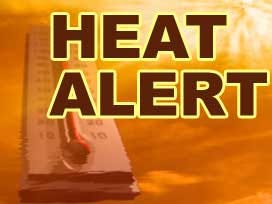 A heat advisory in effect from noon today to 7 pm this evening for much of the Channel 8 viewing area. This includes Gage and Saline Counties
The National Weather Service in Omaha/valley has issued a heat advisory…which is in effect from noon today to 7 pm this evening.
Temperatures will reach the lower 90s by 1 or 2 pm and stay in the 90s through 7 pm. Dew point temperatures should be in the 70s through much of that same time.
The combination of heat and humidity will push heat index values to between 100 degrees and 110 degrees this afternoon and early this evening.
Be sure to drink plenty of fluids, take breaks from the heat, keep a close eye on children, the elderly and other vulnerable people.
Don't forget about your pets. Bring them inside or at least to a shaded area.