Jack Hoffman joins Dick Vitale for Florida gala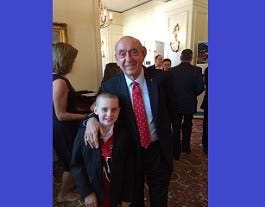 Posted By: Camila Orti
corti@klkntv.com
Jack Hoffman and his dad were personal guests of famous ESPN announcer Dick Vitale at a fundraising gala in Florida.
The Dick Vitale Gala benefiting the V Foundation for Cancer Research took place in Sarasota, Fla. Friday night. Andy Hoffman says Vitale personally called to invite him and his 8-year-old son to the event. More than 850 people, including dozens of celebrities, were in attendance.
Andy says it was a blessing to be a part of an event that raises money for childhood cancer research.
"We went down there with the hopes that Jack's presence and the use of his story would help inspire people to donate money," Hoffman said over the phone.
It did. In a tweet, Vitale said more than $2 million were raised for pediatric cancer, and that Jack "stole the show."
"They were all so touched, I swear to God when we walked down that hall and he arrived it was like a star had come into the building," Vitale said over the phone.
Coach Bo Pelini accompanied the Hoffman's to the event. After the audience watched the video of Jack's famous touchdown run, Pelini went on stage and talked about the boy's impact on himself and Husker Nation.
"It was probably the most special moment I've ever had in sports," Pelini said during the speech.
Hoffman says it's events like these that make the fight against cancer possible.
"Thank God for people like Bo Pelini and Dick Vitale because without guys like that, this disease does not go anywhere," Hoffman said.