Johnny Rodgers receives full pardon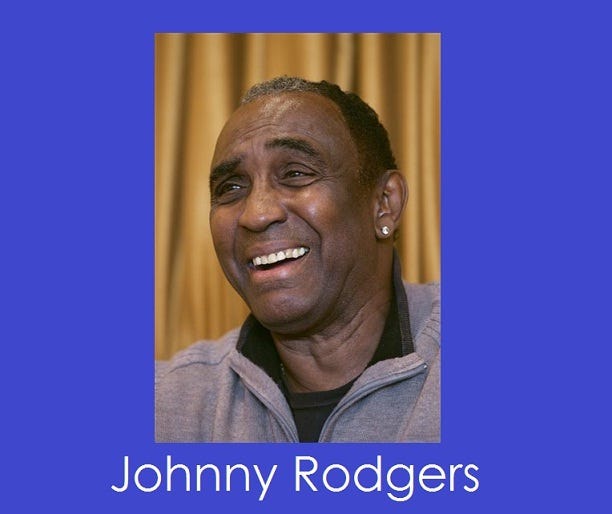 By: Brittany Paris
bparis@klkntv.com
Former Husker and Heisman Trophy winner, Johnny Rodgers, asked the Nebraska Board of Pardons for a full pardon on Thursday.
"I'm seeking a pardon because, um, this incident happened when I was 17 years old. I had 10 minutes of insanity, which has hurt me my whole life," Rodgers said.
In 1971, Rodgers was sentenced to two years probation for robbing a gas station the year before.
He still denies having a gun during the crime, though police say the gas station attendant reported Rodgers having a gun.
But the 62-year-old is ready to move on and believes he can with his full pardon. It restores his civil rights, allowing him to hold office, serve on a jury or obtain a passport.
"Maybe the things I will be starting today, I could've started 20 years ago," he said.
Rodgers' family was there, supporting the man they say has done so many good things in his life. They say they're breathing a sigh of relief, too.
"Whew, finally over," Jewel Rodgers, daughter, said. "We have it. It's okay now."
It was all smiles as Rodgers left the hearing, but he says this is just one step in clearing his name.
"It's not over until it's over and I'll move onto the next chapter."
That next step is to ask for a pardon in California. In 1987, while living in San Diego, he was convicted of being a felon in possession of a firearm.
His daughter says she'll support him every step of the way.
"I have to be. He's my dad, you know? He's always there for me so I have to be there for him," she said.
"It's always one more. There's always just one more," Rodgers said. "The devil's in the details. That's just one more detail that I really have to take care of before I get out of this entangled web."
The Governor did bring up the topic of Rodgers receiving special treatment because of who he is, but says that isn't the case here. And that Rodgers meets all of the requirements for a pardon.
Rodgers says there's nothing special about what he's requesting.