Junior Achievement's annual Bowl-a-Thon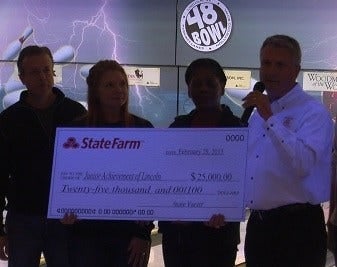 Posted By: KLKN Newsroom
Hundreds of people across the Capital City laced up their bowling shoes for Junior Achievement.
The nonprofit organization held their annual Bowl-a-Thon fundraiser all day Saturday at three different Lincoln bowling alleys. State Farm stopped by Parkway Lanes to present their check worth $25,000 to the group.
Junior Achievement has been in Lincoln for 40 years. They provide business and financial literacy education to students for free.
"We're teaching them how to balance a checkbook, what the difference is between a debit and a credit card, differences between the banks," Board Chair Ken Svoboda said, "I mean it's amazing, the curriculum is fantastic."
Junior Achievement representatives say 330 teams signed up to bowl.