Major drug operation bust near playground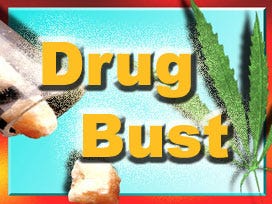 By: Megan Palera
mpalera@klkntv.com
American Legion Park is where a lot of families come to play and hangout during the day, and it's also located just across the way from where police say a major drug operation was taking place.
Amy Halls lives just across the street from American Legion Park, and as she found out today, a little too close for comfort from where police say an illegal drug operation was taking place.
"My kids place here all of the time and it's just right across the street from the park. I just worry about my kids and their safety," said Halls.
Police obtained a search warrant for Dirt Cheap Cigarettes after the business recently failed a narcotics compliance check. This afternoon, that warrant was served. Police say they found nearly 1,200 canisters of suspected K-2, a synthetic form of marijuana, which is illegal in Nebraska.
They say they also found items that can be used with K-2, including 1,800 pipes. The owner, 33-year-old Allen Peithman and employeeloyee, 21-year-old Amber Bertschinger, were arrested. Both are behind bars tonight facing drug charges that include possession and intent to deliver a controlled substance and drug paraphanelia within 1,000 feet of a playground.
Disturbing news to this mother of two who says she's often forced to leave the park because of people using drungs. "Mostly it's because someone's smoking pot and I just don't want my kids to be around it," said Halls.
The Nebraska Legislature passed a law banning K-2 last year, Kansas and Missouri have also made it illegal.