Kearney city councilman cited for gambling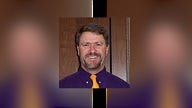 By: Jenn Hatcher
jhatcher@klkntv.com
A Kearney
city councilman and his daughter are cited for gambling at the boy's state
basketball tournament.
"Several officers saw these transactions taking place
and at a certain point, they decided something needed to be done, just because of
the blatantness of his actions," explains LPD officer, Katie Flood.
Lincoln
police say Randy Buschkoetter was seen transferring money and he and his
daughter, Danielle, were actively writing in a notebook.
Randy wouldn't share his side of the story for legal purposes,
but tells Channel 8, he's upset the 21-year-old was cited too.
Randy says, "The fact that she is being pulled down
simply because she was in the wrong place at the wrong time and bad decisions
made by her father, is really very tough for me."
Sports gambling is very common, especially during march
madness.
Lincoln
city code defines gambling as a person betting on something of value upon the
outcome of a future event.
The misdemeanor is punishable by a $500 fine or 6 months in
jail.
Lincoln
police admit, many times the practice is over looked.
"It's not an offense we site very often," says
Flood.
Buschkoetter says he understands the officers were just doing
their job.
As of Monday afternoon he hadn't spoken with the city
attorney's office.