Keeping cool in the heat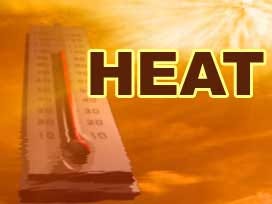 By: Sabrina Ahmed
sahmed@klkntv.com
While we have this scorching heat, there are places around town where you can still find relief.
One of the most popular places to stay cool is at Trago Park. The spray ground shoots cold water everywhere, just press the button and the fun begins.
While there is space to get out of the sun and into the shade, sometimes that just isn't enough, so Parks and Rec is offering indoor cooling stations. A "F" Street and Belmont Community Centers, the evenings are open to cool off and just hang out.
"Kind of a South Lincoln location, a North Lincoln location and both of those on heavy artillery streets," said Lynn Johnson, Parks and Rec Director.
They say each station offers cold water to hydrate, game tables, computers, and TV areas. It's just a time to get into the AC during the hottest hours.
The stations opened last week and the city says they hope this can become the norm. "If the heat index is above 100 degrees that people can just expect that the facilities are open," said Johnson.
On those overly hot days, the stations will be open to families until 9 p.m. but parents do have to be with their kids.
Community Centers extended hours: 5 to 9 pm when the heat index is higher than 100 degrees.
Both centers are open from 1 to 9 on the weekends when hot as well
They will never turn away anyone, regardless of the time, if they are open.
The locations for the cooling stations:
"F" street community center: 1225 F Street, Lincoln, NE 68508
402-441-7951
Belmont Community Center: 3335 North 12th Street, Lincoln, NE 68521
402 477-8854
Trago Park: 22nd & U St., Lincoln, Nebraska 68508
open 11 am to 7 pm
**The indoor community centers are not open on the 4th of July!