Keystone XL Pipeline latest details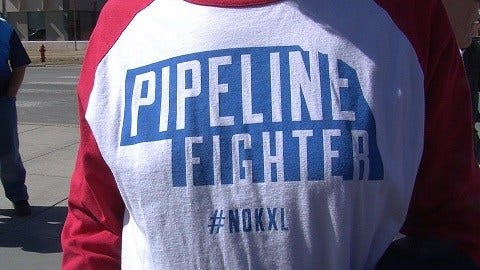 Posted By: Megan Conway
"What seems like a long time ago, farmers and ranchers in Nebraska started getting letters from a company called TransCanada," says Ben Gotschall, Bold Nebraska energy director and landowner.
Five years later, those farmers and ranchers stepped off a bus a the state capitol, after a six hour journey, to continue to fight for their land. One of them being Bob Allpress, who's land has been in his family for over 125 years. He says that land is worth protecting, and the water below it.
"They're putting the pipeline 200 yards behind my house and uphill from my drinking well," says Allpress.

TransCanada says its continually worked with landowners to reach a compromise. Only 10 percent of the people on the pipeline's route are left to find that middle ground. The company says they try to be flexible with people and move the route if possible.
"We are now so far down the road in routing this project, we have far less flexibility in routing," says Andrew Craig, land manager for Keystone XL Pipeline.
Now, the company wants to use eminent domain. In other words, the right to allow a company to take private property for public use, with payment to the landowner, but they're not actually taking the land away from the people. The pipeline would be under ground, and those individuals would continue to own the land and use it how they wish once the process is over.
"The reality is without it we will not be able to build new infrastructure to replace the aging infrastructure in america," says Craig.
A bill proposed by Sen. Ernie Chambers would eliminate the power of eminent domain.
"I'm elected to be in that building and do what I think is right in terms of laws protecting the rights and interests of the people. We speak when you can not speak. We speak for you not against you. That's the way it's supposed to be," says Chambers.
Some landowners, including Doug Zimmerman, negotiated with TransCanada and have let them build the pipeline. Zimmerman says all requests his family had were met, including moving the pipeline to the edge of their property to be less disruptive.
"They left it in as good of shape or better shape then what it was before. All brand new fences, everything of the top soil was taken off before they did the digging, very good safety record there and put all of the top soil back in," says Zimmerman.
Today, the bill was presented in front of the Judiciary Committee. If it's approved there, then it moves to the Legislative floor for debate.