Kokesh, Ihnen Advance to Big Ten Semifinals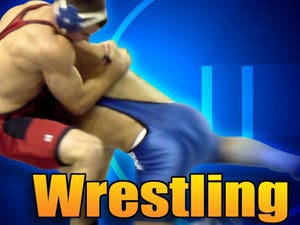 The Nebraska wrestling team placed two wrestlers in the semifinals of 2012 Big Ten Wrestling Championships, which kicked off this morning from Purdue University. Robert Kokesh (165) and Josh Ihnen (184) will both wrestle later to today for a chance to advance to the finals tomorrow at 2 p.m. The Huskers are currently in eighth place in the team standings with 25 points. Penn State is leading the tournament with 78.5 points.
Both Kokesh and Ihnen were dominant in their victories after receiving first round byes. No. 3 seed Kokesh defeated the No. 6 seed Dan Yates (Michigan) by major decision, 12-4, while Ihnen shutout the No. 6 seed Braden Atwood (Purdue), 6-0. It was the second victory for Ihnen over Atwood this season.
Kokesh's opponent for the semifinals will be No. 2 Mike Evans (Iowa), who the redshirt freshman fell to earlier this season in their dual meet. Ihnen will take on No. 2 Quentin Wright (Penn State) in his semifinal matchup. Both semifinals will be wrestled in Session II at 4 p.m. (CT) later today.
The Huskers were able to advance three wrestlers out of the first round of competition. Ridge Kiley (NU) picked up NU's first victory of the day at 133 pounds, defeating Joe Duca (IN) my major decision, 10-0. True freshmen Jake Sueflohn (141) and James Green (157) also won their first matches of the tournament. Sueflohn defeated Colin Shober (NW) by decision, 9-6, while Green took down Shawn Perry by major decision, 15-2.
Both Green and Sueflohn dropped heartbreaking decisions in the sudden-victory period to drop them to the consolation bracket in their second round matches. Sueflohn was defeated by No. 4 Nick Dardanes (Minn.), 8-6, while Green fell to Iowa's Derek St. John by a 6-4 count. Kiley dropped to the consolation bracket after a 12-2 loss to No. 2 Tony Ramos (Iow).
No. 7 James Nakashima (197) dropped a 10-2 major decision to No. 2 Matt Powless (IN) in the quarterfinals, while No. 4 Tucker Lane (Hwt) was upset by the No. 5 seed Mike McMullan (NW), falling by pin with just two seconds remaining in the dual. Both wrestlers drop to the consolation bracket.
Shawn Nagel (125) was defeated by the No. 1 seed Matt McDonough (Iowa) by fall in the first round and No. 7 Tyler Koehn (NU) dropped a tough match to No. 10 Ryan Leblanc (IN), 2-1 (TB2).
A full list of results and next rounds matchups are below. Action will resume from West Lafayette, Ind., at 4 p.m. (CT) with a consolation round and the semifinals. Fans can watch the action on BTN.com (subscription required). Check back to Huskers.com for more coverage on the Huskers at the Big Ten Championships.
First Round
125- #1 Matt McDonough (Iowa) by fall over Shawn Nagel (NU), 1:59
133- #7 Ridge Kiley (NU) by major dec. over Joe Duca (IN), 10-0
141- #5 Jake Sueflohn (NU) by dec. over Colin Shober (NW), 9-6
149- #6 Taylor Walsh (IN) by dec. over #11 Skylar Galloway (NU), 3-2
157- #3 James Green (NU) by major dec. over Shawn Perry (UW), 15-2
174- #10 Ryan Leblanc (IN) by dec. over #7 Tyler Koehn (NU), 2-1 (TB2)
Second Round
133- #2 Tony Ramos (Iowa) by major dec. over Ridge Kiley (NU), 12-2
141- #4 Nick Dardanes (Minn.) by dec. over #5 Jake Sueflohn (NU), 8-6 (SV1)
157- #6 Derek St. John (Iowa) by dec. over #2 James Green (NU), 6-4 (SV)
165- #3 Robert Kokesh (NU) by major dec. over #6 Dan Yates (Mich.), 12-4
184- #3 Josh Ihnen (NU) by dec. over #6 Braden Atwood (Purdue), 6-0
197- #2 Matt Powless (IN) by major dec. over #7 James Nakashima (NU), 10-2
Hwt- #5 Mike McMullan (NW) by fall over #4 Tucker Lane (NU), 6:58
Semifinals
165- #3 Robert Kokesh (NU) vs. #2 Mike Evans (Iowa)
184- #3 Josh Ihnen (NU) vs. #2 Quentin Wright (PSU)
Consolation First Round
125- Shawn Nagel (NU) vs. #7 Camden Eppert (Purdue)
133- #7 Ridge Kiley (NU) vs. Shane McQuade (Wis.)
141- #5 Jake Sueflohn (NU) vs. Brian Gibbs (MSU)
149- #11 Skylar Galloway (NU) vs. #5 Cam Tessari (OSU)
174- #7 Tyler Koehn (NU) vs. #8 Jordan Blanton (ILL)
197- #7 James Nakashima (NU) vs. Vinnie Wagner (Iowa)
Hwt- #4 Tucker Lane (NU) vs. #11 Pat Walker (ILL)
Consolation Second Round
157- #3 James Green (NU) vs.#7 Tommy Churchard (Purdue)/Brandon Zeerip (Mich.)