Kooser Elementary School teacher honored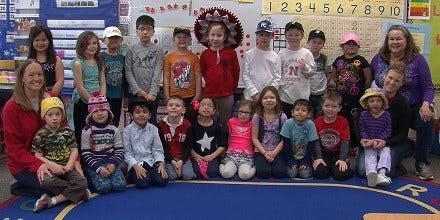 Posted By: Nolan Crane
Lincoln Public School officials are honoring an elementary teacher during their annual Teacher Recognition Day. Here is Monday, March ninths "Excellence in Education."
Tiffany Reynolds has been teaching at Kooser Elementary School for six years. Her kindergarten students learn how to read and write by playing fun games. Some say it's what Ms. Reynolds does outside of the classroom that makes her so special. A mother of one of her students is in the military and wasn't home during the month of January and Reynolds helped out.
"Taylor came down with pneumonia one day and Ms. Reynolds called home that evening on her own time and asked my husband if she's okay. She also wanted Taylor to know that her friends at school really missed her that day," says Jennifer Kramer.
"I love what I do and the biggest part of my job is making my students feel loved and cared for. I was glad I could do that for Taylor," says Tiffany Reynolds.
If you want to see all of the teachers honored by the LPS school district this year you can click on our "School" tab here on our website and watch all five spotlights we have done.