Landowner shoots mountain lion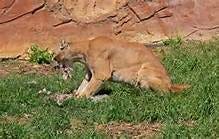 POSTED BY: KLKN Newsroom
8@klkntv.com
WHITECLAY, Neb. (AP) _ A Nebraska landowner shot and killed a mountain lion earlier this month because he couldn't scare the animal away.
The Nebraska Game and Parks Commission says the cougar was shot in Sheridan County on Feb. 8.
The landowner says his kids noticed a partially eaten deer in the grass, and then he noticed the mountain lion near the deer carcass.
The landowner tried to scare the cougar away, but instead it advanced on the house. So the landowner shot the mountain lion.
The confrontation happened about 5 miles south of Whiteclay.
The mountain lion was a female about 2 years old. Officials found no evidence that she had any young.
Nebraska law says mountain lions can be killed without a permit if they threaten people or attack livestock.