Law enforcement agencies are asking for help to win grant for K-9 unit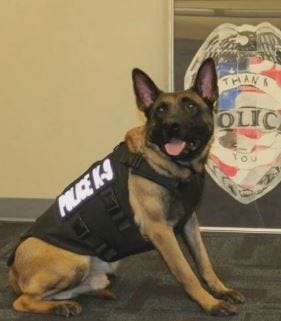 Posted By: Channel 8 Eyewitness News
8@klkntv.com
GRAND ISLAND, Neb.KHGI-
Two law enforcement agencies are both asking for your help in winning a grant.
Both Nebraska State Patrol and Grand Island Police Department have applied for this grant which will help pay for safety equipment and healthcare for their canines.
Aftermath, a national company is putting on a contest for K-9 units.
They will be awarding five grants totaling $15,000.
"The grant can be applied towards feeding, maintaining or training the K-9 unit and again those canines work as a pair. Any grant funds that we can get especially with recent budget cuts really helps us take the tax payers dollars and put those towards other necessary services with the police department," said GIPD Captain Jim Duering.
Both GIPD and NSP said that having a K-9 unit is a vital function of the police department.
"Well the benefit of having a dog is that it's kind of just an extension of your own eyes and also the incredible ability for them to detect with their nose," said NSP Lieutenant Downing.
Going through a mini police academy is something that these dual-purpose K-9's must do but it doesn't come cheap.
"It helps us in our war on drugs and reducing drug activity. It also helps us in vital situations to keep both our officers and citizens safe with some of the patrol functions that they do," said Captain Duering.
"Imagine in a corn field that could be a pretty busy endeavor if you're just on foot but with a dog they can smell, one where the person has walked and two the actual person who could be hidden in corn, or trees, or grass and take us right to them," said Lt. Downing.
NSP is hoping to fill their final spot bringing and 12th K-9 to the force while GIPD is hoping this grant will help with training costs for their second K-9.
"The thing with the K-9 is they are a team. It takes a lot of work for our handlers to maintain the training and for the dogs to maintain their status. We have health levels, training issues and all of those things that come into mix," said Captain Duering.
Click on the link below to vote for both law enforcement agencies. Voting ends on Nov 7: