Lawmakers Debate Helmet Law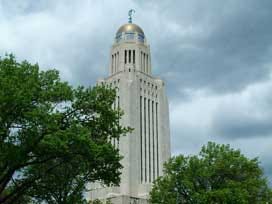 Nebraska lawmakers debated for the second time this week, a bill that would repeal Nebraska's law that motorcyclists wear helmets.
Lawmakers stopped short of a first-round vote on Tuesday, but comments from lawmakers and approval of an amendment suggest that the vote on the repeal measure (LB200) will be close.
Almost annually for the past 20 years, state senators have failed to repeal the helmet law. Senator Charlie Janssen of Fremont introduced the repeal measure. He said after debate Tuesday that the vote was too close to call.
The amendment approved would require that motorcyclists have insurance for long-term care. A proposed amendment would require more insurance – at least $1 million to cover injuries.
Some lawmakers in favor of the repeal argue the law steers motorcyclists away from Nebraska, which means a loss of revenue.