Lawmakers hear testimony on newborn heart screenings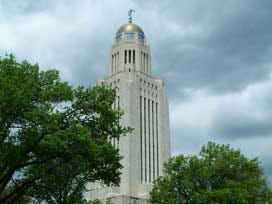 Posted By: Ashley Harding
Aharding@klkntv.com
A bill with the potential to save lives is making its way through the Legislature. A hearing was held Thursday before the Legislature's Health and Human Services Committee that would require all hospitals in Nebraska to screen newborns for critical congenital heart disease.
"I like to go fishing, ride my four wheeler, and play football at recess with my friends."
By all accounts, 10–year-old Cole Klein is a normal, happy little boy.
Just looking at him, you wouldn't know he is one of thousands of babies born every year with a critical congenital heart defect. A condition which has required three open heart surgeries, and nearly cost him his young life.
"It doesn't matter if we're 10 years old, or 10 hours old. Usually it is only once we are really sick before someone knows. And too many times, it is too late before anyone knows."
And for that reason Cole is asking lawmakers to support a bill that would make pulse oximetry screening in newborns a must in all Nebraska hospitals.
It's a test many children, Cole included, never have. It's simple and cost effective. It checks the oxygen levels in a newborn baby's blood, and doctors say it can detect heart defects in 90–percent of cases.
"The test takes just a few minutes to perform while the baby is still quiet and warm. The probe does not puncture the skin. The measurement can usually be read in 30 to 60 seconds," Dr. Robert Spicer of Children's Hospital said.
Doctors say the screening is used in about 70–percent of all hospitals in Nebraska. For those who've been through this, we can do much better.
"Screening babies for heart defects will give many children, like me, a fighting chance. A chance we need. A change I think we should have. Thank you."
No one testified in opposition of the bill.