Lawmakers pass voter-approved, sales-tax hike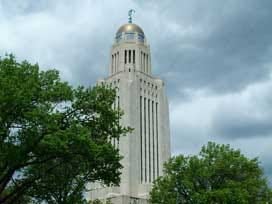 Posted By: KLKN Newsroom
A bill that would let Nebraska cities increase their sales tax rates by as much as a half-cent, with voter backing, has won final approval from lawmakers.
The bill by Omaha Sen. Brad Ashford advanced out of the Legislature on Thursday, 30-15. Gov. Dave Heineman has vowed to veto the bill, saying it could lead to higher taxes in Omaha and other cities.
The proposal would allow cities to raise their sales tax rates to as high as 2 percent, up from the current 1.5 percent lid, with voter approval. Any proposed increase would require 70 percent majority support from a city council before it could appear on the ballot, and the question could only be presented to voters during a primary or general election.