Debate gets heated as legislative session winds down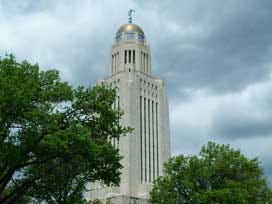 By: Bill Schammert
bschammert@klkntv.com
Tuesday, for the second night in a row, lawmakers are burning the so-called midnight oil as there are just three days left in this year's 60-day session.
For Omaha Sen. Ernie Chambers, it's still all about the mountain lions.
"Nothing like shedding bright, red, warm blood of an unoffending creature who was, in my opinion, not put here to be killed," he said.
In the last few days he's filed more than a dozen amendments on to other bills, hoping to pass the legislation which was already vetoed by Gov. Dave Heineman.
With the pressure of a shortened 60-day session, senators say they're doing their best to keep it civil.
"It's like being on a treadmill," Lincoln Sen. Kathy Campbell said. "Every day gets a little faster and a little faster. People get tired and cranky, but I think good nature will prevail and we'll end on a positive note."
Papillion Sen. Bill Kintner tried to attach his pro-gun bill, which would make future federal gun regulations unenforceable in Nebraska, onto prison reform. He argued they both dealt with criminal justice, but that idea was shot down by other senators who voted it was not germane.
Having some success is Omaha Sen. Brad Ashford, who's prison reform bill, LB-907, moved on to the final round after Tuesday's vote.
"Hopefully we'll focus on dollars that are saved as we reduce the prison population through these reforms," he said on the senate floor.
Also moving on Tuesday to a final reading was a water sustainability bill, and a roads bonding bill.
The final day of this year's session is April 17th.