Lefler Middle School educators get a glimpse into poverty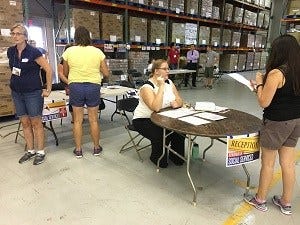 Posted by: Marlenia Thornton
mthornton@klkntv.com
Dozens of Lefler Middle School educators got a glimpse into poverty Tuesday.
They participated in a simulation which showed them what life is like for a typical low–income family.
Each group was given different scenarios and they had to figure out how to make it for a month with limited money and resources.
"We're empathic to these students and families, but to be really in the situation. It's really telling how much of a task it is to survive day to day," Lefler Middle School Teacher Joe Schlegelmilch said.
"It was very difficult even in this simulation to navigate all the services that you need to survive," Lefler Middle School Librarian James Purtzer said.
The teachers had to work out things like child care, food and paying their utilities.
One of the greatest hurdles they faced was transportation and getting to their needed services in time.
Leadership Lincoln ran the simulation and wanted it to be as realistic as possible.
"We try not to really eliminate barriers for the participants. We want them to feel the frustration. We want them to feel the concerns that they're perhaps not meeting all the needs," Leadership Lincoln Fellow Meagan Liesveld said.
These situations are a reality for many Lefler students.
More than 50 percent of its kids are on free or reduced lunch.
The Food Bank of Lincoln provided more related training called Bridges later that afternoon.
All efforts teachers are taking to better understand and serve their students.
"We're not going to feel sorry for our students or our families, but we want to put ourselves in their shoes, so we can still take those kids to meet the expectations, but we're not going to give up on them," Lefler Middle School Principal Jessie Carlson said.
Leadership Lincoln would like to extend the training to more Lincoln Public Schools in the future.
Lefler is the first school in the district to incorporate the Community Action Poverty Simulation and Bridges training into its staff development.