Legislature Advances Bill Compensating Wrongly Convicted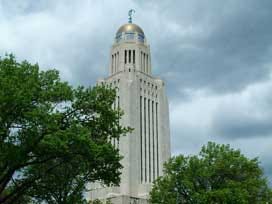 How much should the wrongfully convicted be compensated?
The legislature advanced a bill that could put money in the pockets of those who wrongfully spend time behind bars, but not everyone is happy with the way the bill stands now.
Joseph White is one of the six people, now labeled the "Beatrice Six", who was released after spending almost 20 years in prison for a crime he didn't commit. When the bill that could put money in his pocket was introduced, he stood to get close to one million dollars. Now he could get much less, and he said it's not right.
"I'm starting out at almost 50 years old at the same place most people start out out of high school," said White.
After 20 years in prison, Joseph White is trying to rebuild his life in Alabama. Shortly after he, along with 5 others, were cleared for the 1985 rape and murder of Helen Wilson, Senator Kent Rogert proposed a bill that would compensate them for time served.
At 50-thousand dollars per year spent behind bars, White stood to make close to a million dollars.
But the latest form of the bill, which is now in the final round of debate, cuts that to $25,000 a year with a $500,000 dollar cap.
"There's no way to get back what I lost," said White. "But the the money itself would take care of my obligations."
But White said that's the problem. After he pays his attorney's fees, buys a home and a car, he says the $500,000 dollars would be gone, leaving nothing for the future. So now he has a message for the legislature before they pass the bill.
"Take a look at what you've put together over the last 20 years of your life or toward your future and ask yourself, if all that was taken away, and you were left with nothing, what would you want to start with?" he said.
White told me, before he was arrested, he planned on opening a wood furniture shop. He said similar businesses could make about $250,000 dollars a year. That just gives you an idea what he says he could have made if he was never imprisoned.