Another levee breached, people evacuated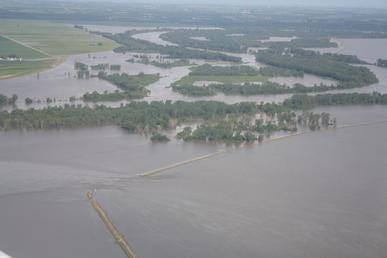 The failure of a Missouri River levee in northwest Missouri is offering a brief reprieve from flooding for southeast Nebraska near the Cooper nuclear power plant. People living in Phelps City, Missouri and a few other small towns were asked to evacuate. Further upstream in Mills and Fremont County, Iowa, residents were also asked to evacuate if they live between I-29 and the Missouri River because levees were overtopped.
The National Weather Service says the river level dropped more than a foot at Brownville to 43.1 feet Friday morning after Thursday's levee breach upstream in northwest Missouri.
Before the breach, the river had been 44.8-feet-deep at Brownville on Thursday. The weather service predicts the river to return to that depth over the weekend.
The Nebraska Public Power District owns the nuclear power plant. The river would have to rise to 46.5 feet before reaching Cooper, but the plant would be shut down as a precaution if the river reached 45.5 feet. Spokesman Mark Becker says the plant continues to operate at full capacity.
The chairman of the Nuclear Regulatory Commission will visit Nebraska's two nuclear power plants to check out the measures they've taken to battle flooding along the Missouri River. The commission says Gregory Jaczko will visit Cooper nuclear power plant near Brownville on Sunday, and then tour Fort Calhoun nuclear power plant near Blair on Monday. He will also take a helicopter tour of flooding on the river.
Fort Calhoun remains shut down because of concern about floodwaters, but a series of barriers have stopped the water's advance. It is run by the Omaha Public Power District. Cooper continues to operate at full capacity, but the Nebraska Public Power District is monitoring the river closely.
Previously, NRC officials have said both utilities have taken appropriate measures to protect the power plants.
For more information about the Atchison County levee, visit ncnewspress.com