LFR could receive $1.5M grant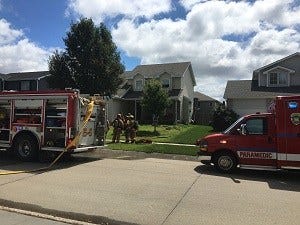 Posted By: KLKN Newsroom
On Friday, August 12, 2016, Lincoln Fire and Rescue was notified by the Federal Emergency Management Agency (FEMA) of a pending grant award for $1,467,639 through the Staffing for Adequate Fire and Emergency Response (SAFER) grant program.
The funding, if accepted, would be dedicated for the hiring of nine additional firefighters specifically for the purpose of augmenting current staffing levels on fire suppression apparatus within Lincoln.
The grant provides full reimbursement to the agency for the salary and benefits of additional firefighters for the first two years of employment.
After receiving notice of the pending grant, Fire Chief Michael Despain tasked LFR staff to analyze the potential impacts of the grant. both short-term and long-term, before a detailed report could be complied for review by the Mayor's office.
LFR staff initially believed the Department would not be able to meet the stipulations of the grant, however, on Wednesday, August 17, 2016, after more detailed review of internal capacity to meet the stipulations, it was decided to provide the Mayor with a recommendation to accept the grant.
Any concerns that the Mayor's office was purposefully withholding the details of the pending grant award are without merit as LFR staff was not able to provide a recommendation to move forward until August 17th.
On the 18th, next steps were discussed at a Mayor's staff meeting and dates for Council information sessions were chosen. The meeting notices on the SAFER grant were sent to Council the same day.
Any concerns that the pending grant could have relieved budget impacts to the general fund are also without merit since the SAFER grant funding cannot be used to supplant existing funding levels or be used to augment the Emergency Medical System services also provided by LFR.
At this time the SAFER grant details are being provided to council members.
The next step would be a public hearing at a future council meeting for formal adoption of rejection. FEMA requires a majority vote of the council for formal acceptance of the funding.