LIBA hosts attorney general candidates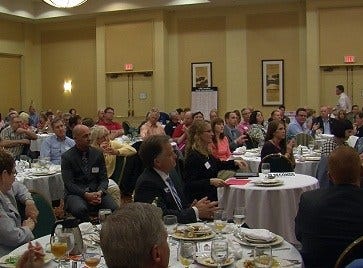 Posted By: Camila Orti
corti@klkntv.com

Lincoln citizens got to know their attorney general candidates a little bit better this afternoon.
All six candidates answered questions for the public as part of a forum held at the Holiday Inn Monday afternoon. More than 150 people came out to the event, which was hosted by the Lincoln Independent Business Association (LIBA).
The candidates were asked to answer a few specific questions. The first- what is the role of the state attorney general in defending Nebraska laws?
"You don't set public policy, so you have to enforce laws whether you personally agree with them or not," candidate Janet Stewart (D) said.
While the candidates unanimously agreed on this point, some brought up fighting back against the federal government, specifically in regard to healthcare.
"I've fought against Obamacare in the legislature the last two years, kept it from being enacted," Sen. Pete Pirsch (R) said.

Candidate Mike Hilgers had a similar stance.
"I will file a lawsuit against the IRS implementing Obamacare in Nebraska," Hilgers (R) said.
Another question dealt with policy and what can be done to improve public safety.
"The number one priority I want to announce is to work closely with city attorney's and law enforcement officers to uphold our criminal statutes in the state of Nebraska," candidate Doug Peterson (R) said.
A couple candidates mentioned specific issues they'd like to tackle.
"One priority I will have is to change Nebraska's Good Time Law," candidate Brian Buescher (R) said, "repeat violent offenders should not even be eligible for good time reduction."
"I would like to increase the porn, cyber crime emphasis," candidate Al Eurek (D) said.

Candidates were also asked to comment on the issue of patent trolls.
The primary election is May 13th.
As part of the Channel 8 Eyewitness News "Your Voice Your Vote" profile series, we'll be bringing you a closer look at all the gubernatorial and senate candidates. Those will begin airing next week.