LIBA hosts Death Penalty Debate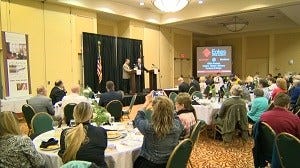 Posted by: Marlenia Thornton
mthornton@klkntv.com
The community had a special opportunity to listen to the ongoing debate about capital punishment in Nebraska.
It was a luncheon held by the Lincoln Independent Business Association Wednesday afternoon.
"I don't think there's anything better than a debate. They can give to the full extent their beliefs on both sides. It really does help you weigh the decision," Luncheon Attendee Steve Hughes said.
LIBA invited representatives from both sides of the issue to weigh in on the discussion.
A media panel asked them a variety of questions about the death penalty like problems with getting the lethal injection drugs and ethics.
The debaters even gave their opinions about economist Ernie Goss's cost analysis and the attorney general's reaction.
"If it was a tenth of the cost that Goss said, is the state getting what it's paying for? The conclusion I came to is that we're not getting what we're playing for whatever that cost is," Retain a Just Nebraska Representative Sen. Colby Coash said.
"We don't want to make a mistake. We want to be careful in what we do. We want to careful of that we do. We want to be thoughtful preserve the due process rights of defendants. The fact that it costs more is not a reason not to do it," Nebraskans for the Death Penalty Representative Attorney Bob Evnen said.
In about two months, you'll get the final say on this issue by casting your ballot
Attendees said that's why events like these are important.
"I think a decision like this shouldn't be taken lightly. One must be educated in order to understand what he or she is voting for," Luncheon Attendee Matt Anderson said.
As a reminder in November, if you want to keep death penalty abolished, vote retain.
If you want to see it come back, vote repeal.