Hagel to be announced as Secretary of Defense nominee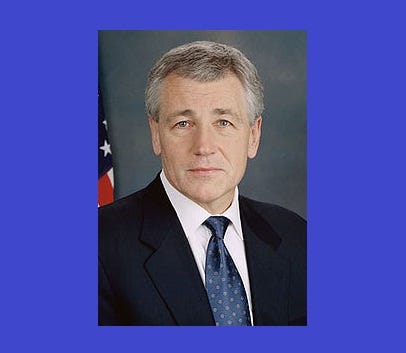 By: Kayla Bremer
kbremer@klkntv.com
All eyes will be on Washington over President Obama's nomination for Secretary of Defense.
Hagel, 66, is a decorated Vietnam veteran who served two terms in the Senate. Even before his nomination, he has come under tough criticism from some former GOP colleagues over his stances on Israel and Iran.
Still, Republican lawmakers have stopped short of saying they might block Hagel's nomination.
The president will announce Hagel's nomination from the White House Monday afternoon, a senior administration official says. If confirmed, Hagel will replace current Defense Secretary Leon Panetta and take over the Pentagon as it deals with budget cuts and the winding down of the Afghanistan war.
The official requested anonymity in order to discuss Hagel's nomination ahead of Obama. While lawmakers are calling it a controversial pick, many Nebraskans we spoke to say he's right for the job.
"He speaks his mind and he's up front with everything and he's direct and a lot of people in Washington don't seem to do that much anymore," Dominic Brazda of Lincoln said.
Many of the people we spoke to were excited about the former Nebraska senator being the president's top nominee.
"I like the fact that he was a common soldier and we need that type of person to be in the defense department," Becky Schenaman said.
"I'm pleased," added John Mulvaney. "Chuck has always had a very independent streak that I think will serve this state and this country quite well."
However, some lawmakers are questioning whether he's right for the job.
Even Senate Republican Leader Mitch McConnell says he's reserving judgement.
"I'm going to wait and see how the hearings go and see whether Chuck's views square with the job he would be nominated to do," McConnell said during an interview with ABC's "This Week."
He says Hagel has been outspoken in foreign policy and defense over the years. Some have questioned how strongly he supports Israel…including his reference to the "Jewish Lobby" in the United States.
"You know people are drawing attention to that but it was a long time ago and I think he sincerely regrets having said those things and maybe he was even misinterpreted," Brazda said.
Last week President Obama called Hagel "a patriot" who "has done extraordinary work."
He's expected to make the official announcement about Hagel as soon as Monday.