Lincoln 4th of July information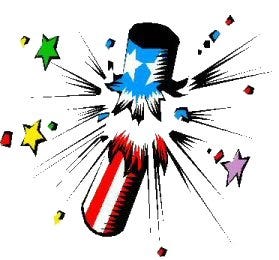 The 4th of July holiday is approaching! Here is information on Lincoln's new fireworks ordinance and tips to celebrate the holiday weekend safely.
The Lincoln City Council adopted new rules into the fireworks ordinance. Many residents will find more of a selection when buying fireworks this weekend. The new ordinance allows firecrackers, and other bright noisemakers with more advanced aerial shells.
In Lincoln, stands will be open July 3rd from 8 a.m. to 11 p.m. and July 4th from 8 a.m. to midnight. Those are the same hours you can light off the fireworks.
Also, the City of Lincoln's annual "Uncle Sam Jam" is July 4th at Oak Lake Park. Activities are planned throughout the day ending with a large fireworks display at 10 p.m. For more information, log onto the city's website: http://www.lincoln.ne.gov/city/mayor/cic/july4/2010/schedule.htm
Health and Human Services says a safe way to enjoy fireworks is to watch them at a community display where professionals are in charge of the celebration. But, if you decide to put on your own fireworks display, make safety a priority by keeping in mind these important tips:
Older children should use fireworks only under close adult supervision. Never allow young children to handle fireworks, especially sparklers.
Light fireworks outdoors in a clear area, on a smooth, flat surface, away from onlookers, houses and flammable materials.
Light one device at a time; maintain a safe distance after lighting.
Never ignite devices in a metal or glass container.
Do not try to re-light or handle malfunctioning fireworks; douse and soak them with water and discard them safely.
Have a garden hose and bucket filled with water nearby to fully extinguish fireworks that don't go off or in case of fire.
Stay away from illegal or homemade fireworks, which can often be deadly.
Dozens of firework-related injuries occur in Nebraska each year around the Fourth of July.