UPDATE: Lincoln apartment fire forces building evacuation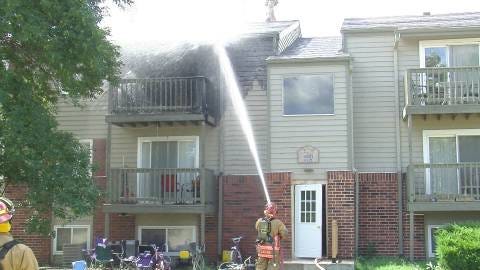 Posted by: Laura Wilson
lwilson@klkntv.com
UPDATE: Firefighters say a cigarette that was improperly discarded is to blame for the fire. The fire inspector says about $100,000 in damage was caused by the fire.
An entire apartment complex was evacuated Monday, after one of the units caught fire.
"First, we heard the fire alarm, and then I was trying to figure out the noise was because it was kind of muffled," explained resident Alicia Dieckhoff.
"And then, somebody came and banged on our door—and he said 'get out, there's a fire!'"
A ½ hour after the evacuation, Dieckhoff and her children were still reeling from the fire that forced them out.
"The smoke scared me," Dieckhoff's son recalled.
"I've never been in a place that had a fire before so it was really freaky," said Dieckhoff.
"I told them just to run outside while I grabbed the keys and stuff to our car and locked the apartment," she added.
Fire crews responded to a fire inside a unit on the 3rd floor of 'The Lodge Apartments,' near Highway 2 and 48th, just after 3:30 Monday afternoon.
The Lincoln Fire Department hasn't determined what caused the fire, or where it started, but noticed flames on the deck when they arrived on scene.
The Lincoln Fire Department says they were able to knock down the fire quickly.
"They cut a hole in the roof to ventilate it and we managed to contain it to that location and that location only," said Battalion Chief Jeanne Pashalek.
And that's pretty remarkable, considering multiple fire hydrants on the property were completely dry, forcing crews to tap into hydrants further away, off of Old Cheney Road.
"It's certainly a safety issue for us, especially when we have confirmed fire and Search and Rescue concerns. So it's very much a concern for us. We will identify, and work with the complex, to fix the hydrant situation," said Pashalek.
The building was not opened back up to residents for several hours, but those with pets were able to go inside earlier to quickly retrieve their pets—which made for some very happy dog owners, and their K9 companions.
"She's so excited," said resident Jenny Hill, about her dog.
"She loves people and there's a lot of people here so she wants to go jump and kiss everybody."I was extremely relieved. I've had her for four years ever since she was a couple years old, so she's my baby."