Lincoln Children's Zoo welcomes new penguins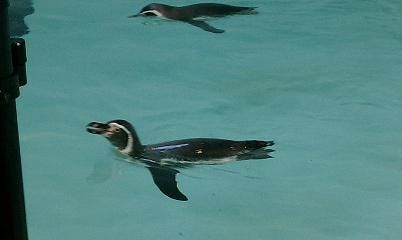 Meet Hugo and Lannie, part of the Lincoln Children's Zoo new Humboldt Penguin Habitat.
The penguin exhibit will open on Thursday, October 7, 2010. The Zoo first publicized being chosen as one of only 16 zoos in the country to care for one of the rarest penguin species in March 2010.
Currently, two male penguins, named Hugo and Lannie, now call Lincoln home. They arrived late September from the Philadelphia Zoo. An additional three penguins are scheduled to arrive by November from SeaWorld in California and five other penguins will join the flock next spring.
Humboldt penguins are one of the few penguin species that prefer warmer climates as the penguins originate from the coasts of Peru and Chile. The Zoo has been approved to acquire 4-6 breeding pairs of penguins.
The Humboldt Penguin Habitat includes the Conservation Center featuring a three-foot deep, 4,655 gallon indoor pool.
The Zoo has reached their $300,000 fundraising goal for the construction of the new Humboldt Penguin Habitat. Major contributions to the project were received from the Lancaster County Board with a grant from the Visitors Improvement Fund and gifts from the Hugo and Thelma Aspegren Charitable Trust and the WRK Family Foundation. Additional funding is being sought to support the care and dietary needs of the penguins.
The public can make a donation by Adopting a Penguin or becoming a Penguin Parent by visiting the Zoo's website at lincolnzoo.org.
The Lincoln Children's Zoo is open from 10 a.m. – 5 p.m. until October 15th.