Lincoln couple hoping to get prized possessions back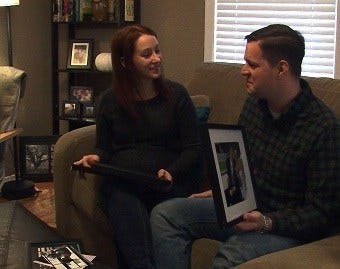 Posted By: Camila Orti
Trevis and Jacey Gale never figured an old dresser could become so important.
The Lincoln couple was kicking it to the curb Monday night to make room for new furniture in their home near 49th and Randolph streets.
"My brother helped me carry it out and I neglected to empty a drawer," Trevis said.
That drawer happened to hold all of Jacey's socks and some of her most prized possessions.
"Her diamond earrings that I gave her for our second anniversary, the pearls that I gave her on our wedding day," Trevis said.
Plus, Jacey says the drawer contained every single card her husband had written her for the past six years. The dresser was gone by Tuesday morning.
"It hit me all of a sudden, I immediately started crying and kinda panicked a little bit," Jacey said.
Trevis says he immediately got on the "LinConsign" page to ask for help. Since then, the post has gotten hundreds of shares on Facebook.
"We have 317 comments on here," Trevis pointed out Saturday.
Jacey says she's typically not a sentimental person, but those gifts and notes from Trevis mean everything to her. To whomever picked up the free piece of furniture, the couple says "the dresser and socks are all yours," but the rest needs to come home.
"It's worth a lot more to us than it is to anybody else," Trevis said.
Despite the positive support from the community, the couple says they still, as of Saturday, haven't had any luck.
If you have the dresser or know somebody that could have picked it up, the couple is urging that you contact them via email at trevis.jacey@gmail.com, or anonymously through the Lincoln Police Department by mentioning case number B5-014272.