Lincoln couple stuck on powerless cruise ship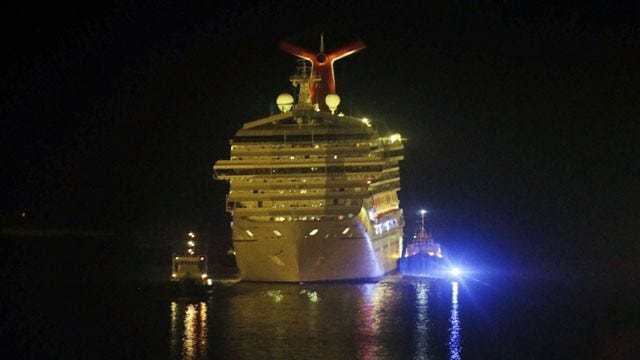 By: Megan Palera
mpalera@klkntv.com
The crippled Carnival cruise ship finally pulls into a port in Mobile, Alabama Thursday.
An engine-room fire left the ship powerless on Sunday. The trouble continued Thursday when a snapped towline delayed the Triumph's arrival. More than 4,000 people are on board, including Jim and Jeanne Pearson of Lincoln.
Their son, Jeff said he was relieved to finally here from them Thursday after five days of silence.
"He said that they were tired but that they were ok. That since the fire on Sunday morning, they hadn't had showers or hot food or anything like that," Jeff Pearson said.
Pearson received word of the cabin fire from Carnival on Sunday. Then came the guessing game as to when the ship would make it back to land. But nothing really sank in until he saw the pictures on TV. Thousands of people lined up outside on deck as passengers described frightening conditions: water and food shortages and sewage running down the walls.
"Little did we know what kind of delay it was turning out to be. It's just been a very long week," Pearson said.
Pearson is thankful his aunt and uncle were on board with his parents to give them comfort and support. But that comfort only goes so far. This was the Pearson's first and last cruise.
"I'm just so excited for my parents to land. I just can't even imagine," Pearson said.
His parents are excited to get back to land too. His dad wrote in his text message that the first thing he planned to do was kiss the ground.