Lincoln essay award winner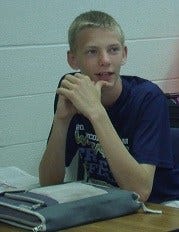 Posted By: Nolan Crane
An 8th grade student at Lincoln Lutheran School is now $1,000 richer. It's all because of his award winning essay on why he wants to go to college. Here's Wednesday, May 20ths "Excellence in Education" report.
The same skills Colton Meyer uses when he attends class helped him win the Nebraska State Treasurer's essay competition. Despite being a straight A student, Colton says nothing in his life has come easy. After losing his dad to ALS, his mom has been his biggest supporter and motivation. He wants to go to college and major in aerospace engineering.
"I've always really kind of wanted to go. I've always thought it would be a really cool experience and that really took a special meaning to me when my dad said to me right before he passed away of ALS, 'take care of your mom.' So I've really taken that to heart and I really want to go to college now to get a better education and to take care of my mom in future years to come," says Colton Meyer.
More than 1,000 students submitted their essays and only 13 students won. Colton hopes to go to college at either Iowa or Georgia Tech.