Lincoln family faces Alzheimer's together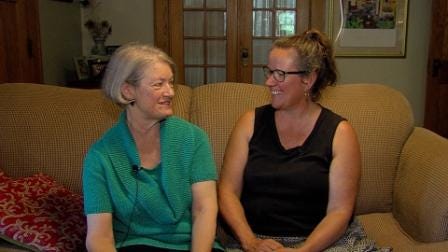 Posted By: Megan Conway
mconway@klkntv.com
At the age of 60, most people are thinking about retirement, but Kathy Martin was preparing to fight a disease that has no cure.
Alzheimer's.
"And then the very next day, Kathy would say 'I don't remember what I did yesterday or who I was with,' and we suddenly realized she had these big gaps of understanding," says Annie Mumgaard, Kathy's sister.
It's a type of dementia that causes problems with memory, thinking and behavior. Almost 5.5 million Americans have the disease.
"That doctor realized you couldn't tell him who the President was," says Annie.
"Really?" says Kathy.
Thankfully, Kathy was able to get an early diagnosis, giving her a better chance to benefit from treatment and make a plan for the future. This includes spending as much time as possible with family.
"Even though, I'll probably call her Joey and her Snitzze or something because I won't know them, but they know me, that I'm their aunt and so fourth, and then we go from there," says Kathy.
Kathy is one of ten children. The entire family participates in the Walk to End Alzheimer's to support her.
"Our team name is Team Kam and our motto is 'we're Team Kam and we're gonna wham ol' Al Zam," says Annie.
Last year, their family won the "Rising Star" award for the biggest year-to-year increase in fund-raising dollars. Their goal this year is to double the amount again. The money is important for research, but for Kathy it's about much more.
"It's important to me because my family has not left me out just because I might have differences," says Kathy.
Kathy may have the disease, but the family is facing it together.
Again, the walk takes place this Sunday, September 18th, at 1 p.m. at Holmes Lake in Lincoln.