Lincoln family 'flushing' cancer away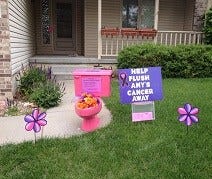 Posted By: Camila Orti
corti@klkntv.com
One Lincoln family is attempting to 'flush' cancer away with a unique fundraising scheme.
"Some of them will go, really? You really are going to deliver a toilet to us?" Mary Ann Genrich of Lincoln said with a laugh.
That's exactly what the Genrichs have been doing for the last week- delivering toilets to front lawns across the Capital City. The idea comes from the American Cancer Society. In this case, it's to raise money for Amy Genrich. The 30-year-old was diagnosed with Stage Four Hodgkin's Lymphoma last year.
"She's very important, she's like a daughter to me," Mary Ann, Amy's mother-in-law, said.
Amy is currently undergoing stem cell treatments in Omaha. Mary Ann and her other daughter-in-law, Chelsey Genrich, were determined to help.
"The goal is to raise enough money to help them with their medical expenses," Mary Ann said. "It's all about them and trying to make them smile through what they're going through."
The donation process is fairly simple. Once the delivery has been made, you decide what happens next based on how much you donate. The instructions and contact information are posted on every toilet. Want the toilet removed? $20. Want to pass the porcelain anonymously? $30, and so on.
Mary Ann says they've had people requesting up to three toilets in their yard at once.
"It seems like everyone loves it, you know, that has been participating," Chelsey Genrich said.
The family estimates they've collected more than $1,500 in seven days, just making a dent in Amy and her husband Nate's mounting medical bills.
"She just wants to go on and get this over with and go on with her life," Mary Ann said.
For more information, visit the 'traveling potty' Facebook page.